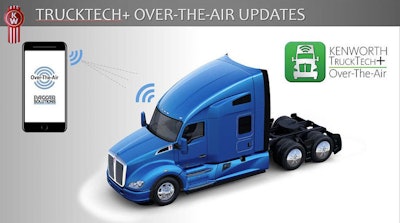 Kenworth announced plans to launch its TruckTech+ Over-The-Air (OTA) program that will allow customers to remotely install engine and aftertreatment software on Kenworth models equipped with 2017 or later MX-13 and MX-11 engines. The service will begin in December for select customers with a full rollout early next year.
"This program enhances truck uptime by making it convenient for customers to load Paccar MX engine and aftertreatment software updates," said Kevin Baney, Kenworth general manager. "It is important to quickly provide customers with the latest engine updates and calibrations that promote enhanced fuel economy and performance."
Active Kenworth TruckTech+ customers can access these updates on the Paccar Solutions online portal, or through the Paccar Over-The-Air mobile app from the Apple App Store or Google Play Store.
Fleet managers can view truck performance data and access available software updates on the Paccar Solutions online portal or Paccar Over-The-Air mobile app. Once the customer approves the update, the system automatically builds the vehicle's software update package and notifies the user when the download is ready for installation and when the installation is completed.
"It is important to invest in continued growth of service capacity everywhere our customers operate," said Baney. "It also highlights the power of a connected world in helping us better understand where our customer trucks are located, the route data and the status of their trucks to allow Kenworth and its dealers to be more proactive in managing customer's service needs and lowering their total cost of operation."
Kenworth also announced the expansion of the Paccar 12-speed automated transmission to its vocational T880.
Perterbilt adds OTA capability, Paccar transmission to work trucks
Peterbilt on Tuesday also announced the addition of OTA updates for the PACCAR MX engines and aftertreatment systems beginning in December.
OTA functionality will be available to Class 8 Peterbilt customers with an engine model year 2017 or newer MX-11 or MX-13 engine and an active SmartLINQ subscription. Beginning in December, customers will be able to request the software updates via the Paccar Solutions portal.
Peterbilt General Manager and Paccar Vice President Jason Skoog noted OTA updates allow customers to download the latest software "anytime, anywhere, without the need to travel to a dealer location."
Peterbilt also announced the expansion of the Paccar 12-speed automated transmission to its vocational segment.
Available for order now for 2020 delivery, the Paccar 12-speed will be available with the MX-11 or MX-13 with up to 510 horsepower and 1,850 lb-ft of torque. Maximum gross combined weight will be 110,000 lbs.
Additionally, Eaton announced Tuesday that its Endurant AMT, which serves as the architecture for the Paccar AMT, will also be available on vocational Peterbilt and Kenworth trucks equipped with Cummins X15 engines, International work trucks spec'd with an X15 or an International A26 and Freightliner vocationals equipped with an X15 or a Cummins X12. Although Jeff Walker, director of product strategy for Eaton Cummins, says the transmission would not be rated for soft-soil and loose gravel operations.