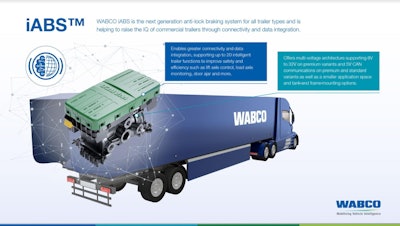 At the North American Commercial Vehicle (NACV) Show in Atlanta Monday, Wabco introduced its Intelligent Anti-Lock Braking System, iABS.
The next generation anti-lock braking system for commercial trailers, Wabco iABS optimizes trailer control during emergency braking by preventing the trailer's wheels from locking and slipping. The Intelligent Braking Platform combines iABS and iEBS (intelligent electronic braking system) on a common platform, making the braking systems interchangeable.
Wabco Americas President Jon Morrison added iABS combines with additional sensors to become the trailer's "brain, resulting in increased operational effectiveness, improved safety and driver comfort," he said. "The iABS focuses on making the trailer smarter and allowing, for the first time, the activation of up to 20 functions of Wabco's Intelligent Trailer Program, such as Lift Axle Control, Door Ajar or Axle Load Monitoring, among others."
Since iABS supports 5V Controller Area Network (CAN) communication ports and Generic Input/Output (GIO) ports, trailers can become intelligent and connected to a telematics unit without a system upgrade. The new device is designed for all trailer types, with tank- and frame-mounting options.
Morrison said iABS provides the ability to monitor overall trailer health condition and set up alerts for required preventive maintenance. It can also optimize logistical processes while enhancing driver guidance and support. The platform, Morrison said, promotes global standardization of ABS and EBS, streamlines the manufacturing and servicing of trailers and enables customization and individualization of each trailer to better serve complex customer needs for flexibility, specificity, speed and safety.