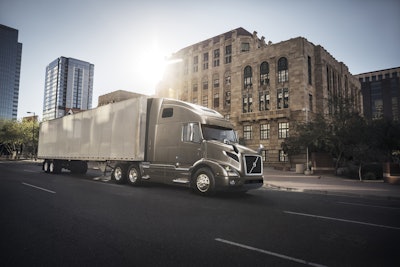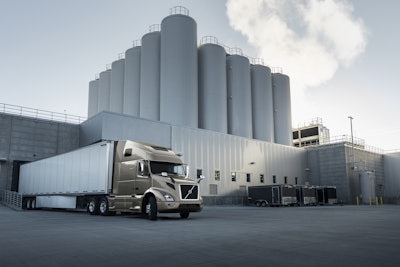 Volvo Trucks North America, at the North American Commercial Vehicle Show in Atlanta Monday, introduced a new model to its regional VNR lineup.
The new Volvo VNR 660 features a 164-inch bumper to back-of-cab length, offering about 400 pounds weight savings from decreasing the overall size of the truck, and giving fleets flexibility to deploy more versatile tractor-trailer combinations for increased cargo capacity.
Allison Athey, product marketing manager for Volvo Trucks North America, added the shorter BBC also helps accommodate trucking restrictive regulations like federal or state bridge laws, length laws and weight limitations.
Chris Stadler, product marketing manager at Volvo Trucks North America, noted the new configuration could be particularly helpful for drivers who travel through multiple states or regions where such regulations can vary.
The VNR 660 features the same shorter sloped hood design included across the VNR product line, which Athey said provides optimized visibility and increased maneuverability in urban areas and tight spaces.
The new truck model, which enters limited production in March, comes standard with the Volvo D11 engine, the Volvo I-Shift transmission and Volvo Active Driver Assist (VADA) 2.0, the recently updated comprehensive collision mitigation system.
The VNR 660 combines a high-roof configuration with a 61-inch sleeper that Athey said will comfortably accommodate an extra person for on overnight stops and has room for a refrigerator, microwave and television with storage above the driver and passenger seats. The new VNR 660 is available with the Volvo Premier Trim package, which includes wood-grain trim for the dash and cabinetry.