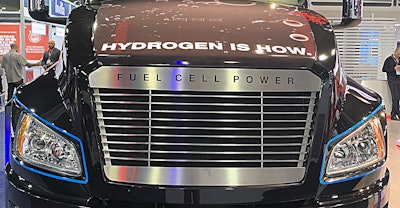 Electrification is one of the biggest trend drivers in trucking right now, but at one of the industry's largest trade shows this week it was riding sidecar to hydrogen.
Electrification is a little further head in practicality than hydrogen depending on application, but it's hard to make a long haul case for an electric truck right now.
With less than 50 hydrogen fueling stations in the U.S., it's not easy to make a case for hydrogen but with range capabilities of 600 miles or more depending on tank configurations, hydrogen is currently basking in the limelight of trucking's alternative fuel of the future.
"We are going to, by the end of the 2020s, bring fuel-cell powered vehicles into series production," Daimler Trucks North America CEO Roger Nielsen said at the North American Commercial Vehicle (NACV) Show in Atlanta. "We believe fuel-cell technology and battery-electric vehicles will exist side-by-side as we head into carbon-free logistics over the next 20 to 30 years."
And they're not alone.
Hyundai Motor Company (HMC) debuted its hydrogen-powered fuel cell electric truck concept, HDC-6 Neptune, in Atlanta.
Maik Ziegler, HMC's president of commercial vehicle research and development, said hydrogen refueling time is much faster than charging a battery, but the higher driving range enabled by the fuel cell, higher payload and lower costs are key factors in hydrogen's potential adoption.
"Fuel cells are crucial for heavy duty long haul commercial vehicles," he added, noting that with only 10 trucks a stable business case can be made for one hydrogen refueling station.
With the introduction of HDC-6 Neptune, in addition to the 50 Hyundai Xcient fuel cell trucks currently slated to be operated in Switzerland next year, HMC Head of Commercial Vehicle Business Division Edward Lee said the company is expanding its technology leadership into the commercial vehicle sector by unveiling its vision of how fuel cell electric trucks can "resolve the environmental equations of widely used commercial vehicles and our commitment to create a decarbonized society."
Lee noted Hyundai brought the world's first commercially produced fuel cell EV to market, and this year debuted its next-generation model in California. Hyundai's Nexo SUV is one of only three fuel-cell passenger cars available in the U.S., along with Toyota's Mirai and Honda Clarity.
"The fuel cell units on our vehicles today have the world's highest system efficiency," said HakSoo Ha, Hyundai design director. Ha noted part of Neptune's purpose was to develop a single platform that could be the basis for multiple vehicle configurations, and not require specific specs for various countries across the world.
Cummins started development of its fuel cell capabilities more than 20 years ago and recently acquired Hydrogenics, a developer and manufacturer of hydrogen generation and fuel cell products. Cummins also made an investment in Loop Energy, a fuel cell electric range extender provider and signed a memo of understanding with Hyundai to collaborate on hydrogen fuel cell technology across commercial markets in North America.
"We are willing to work with our partners to pave the way to establish a hydrogen ecosystem," Lee said.
This makes Cummins – the grandfather of diesel – a major player in the kind of green energy that could one day displace it, and on display at NACV was Cummins' Class 8, 6×4 day cab fuel cell tractor.
Thad Ewald, Cummins' vice president of corporate strategy and leader of the company's Electrified Power business, noted developing the hydrogen fuel cell truck as a technology demonstrator was an important step in gaining insights critical to the continuing the development of solutions for the market "and preparing for the next 100 years," he said. "In the long-run, the customers we serve will likely need more than one type of power, depending on their specific markets, applications and use cases."
Designed for vocational applications, regional haul, urban delivery operations, port drayage and terminal container handling, Cummins' hydrogen fuel cell truck has a range of up to 250 miles but that can be extended with additional hydrogen tanks, by increasing tank storage pressure or the installation of additional fuel cell modules.
A heavy duty, multi-speed transmission includes Cummins ADEPT features to enhance vehicle efficiency, and cranks out about 440 HP of continuous power and more than 1,000 lb-ft of torque at the driveshaft.
Cummins and Freightliner aren't the only legacy truck OEMs casting an eye toward hydrogen. Kenworth and Toyota Motor North America are collaborating to develop 10 zero-emission Kenworth T680s powered by Toyota hydrogen fuel cell electric powertrains.
Kenworth's assembly plant in Renton, Wash., has produced four hydrogen fuel cell electric vehicles and a fifth truck is now in production.
Kenworth Chief Engineer Patrick Dean said Kenworth provides the T680 chassis and cab, motors, transmission, and cooling systems and delivers the overall integration of the fuel cell electric vehicle. Toyota provides fuel cell stacks, hydrogen tanks, load balancing batteries, and other components necessary to deliver the high voltage to the motors, in addition to the controls for that power.
To meet customer needs in these drayage, car-carrier and local-haul applications, the vehicles will offer ranges of over 300 miles under normal operating conditions.
Nikola Motor Company, who practically started this conversation more than three years ago, was there with the company's fuel cell and component supplier Bosch. But this discussion has grown much louder since Nikola entered the space in May 2016, with Bosch North American Vice President for Commercial Vehicles noting a "small band of believers has turned into a large band of implementers," in just two years.