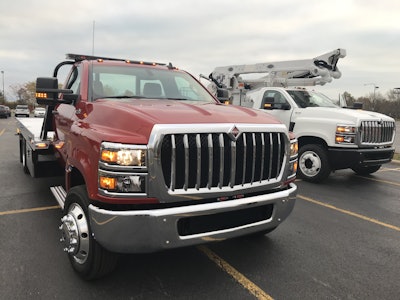 The six-week-long United Auto Workers (UAW) union strike at General Motors – the longest auto worker strike in half a century – delayed the delivery of approximately 5,000 vehicles to customers during Navistar's 2019 fiscal fourth quarter, the company said Wednesday.
The GM strike, which caused production shutdowns at GM facilities and affiliated suppliers, impacted the delivery of components to Navistar's Springfield, Ohio truck assembly plant where the two companies co-develop and assemble medium-duty, conventional cab Class 4/5 commercial vehicles and also where Navistar manufactures GM's cutaway model G Van.
Navistar paused production at the Springfield plant Sept. 23, affecting about 1,500 plant workers. Striking UAW workers returned to GM Oct. 26 and Navistar resumed production last week.
The hit is largely a balance sheet maneuver but is a significant one. Navistar forecasts the lost production will cost the Lilse, Ill. truck maker approximately $140 million in revenue and $15 million in earnings this fiscal year, which ended last month. That money will now be booked in the 2020 fiscal year.
"As a result, our 2019 full year revenue and adjusted EBITDA is now expected to be at the low end of our guidance range," said Navistar Executive Vice President and Chief Financial Officer Walter Borst.
Navistar wasn't the only heavy truck OEM dealing with union strikes last month.
Mack Trucks reached an agreement Oct. 24 with UAW representatives to end a 13-day strike at six of its manufacturing facilities in Pennsylvania, Maryland and Florida. More than 3,500 workers entered into a strike Oct. 12, halting production of Mack trucks and engines and prompting Mack sister company Volvo Trucks North America (VTNA) to halt production of Volvo trucks and temporarily lay off 3,000 workers. Production of Volvo's units relied on parts and components from affected Mack facilities.
A VTNA spokesperson told CCJ Thursday the company doesn't forecast deliveries but noted the downtime at its New River Valley truck plant caused by the strike at the Hagerstown, Md., powertrain facility did effect "some disturbances in our deliveries to our dealers, but it just had marginal effects for our end customers."
Similarly, Mack's Senior Vice President of Sales and Marketing Jonathan Randall noted that flexibility in Mack's production system helped minimize the affect of strike-related downtime on the company's deliveries to customers, "and [we] don't anticipate a significant impact on overall 2019 volumes."