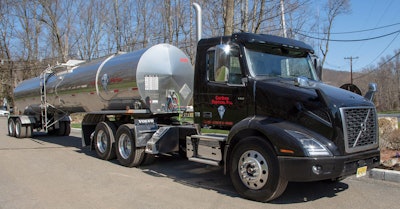 CCJ Innovators profiles carriers and fleets that have found innovative ways to overcome trucking's challenges. If you know a carrier that has displayed innovation, contact CCJ Editor Jason Cannon at jasoncannon@randallreilly.com or 800-633-5953.
Federal mandates dictate how much time drivers can spend on the road but otherwise time doesn't factor heavily into the business of moving freight.
"The whole world rates by the hour except trucking," noted Carbon Express founder and President Steve Rush.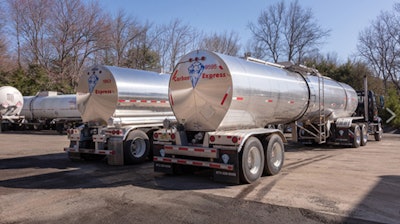 Rush, an early adopter of electronic logs more than a decade ago, saw the opportunity to add more clarity to his bottom line by charging customers for the time drivers spend behind the wheel rather than the number of miles they spend touching it.
"I never understood the rate per mile. How do you calculate that," he said. "No one's ever really been able to sit down and pinpoint it to me. No one has a set way. It's all over the place."
Seven years ago, the Wharton, N.J.-based liquid bulk hauler shifted to rating by the hour and Rush noted it "opens your eyes to so many wrongs. It makes things so much easier."
"For 30-plus years, we rated on whatever we thought the traffic would bear," he said, "and I believe to this day that's what most truckers do. I don't care about the mile. I care about the time that it's going to take me to do that trip."
The variability of a cost per mile rate structure, Rush said, can have a negative impact on profitability because so many of a fleet's costs are fixed.
"Trucking is almost like a commodity. 'Oh, well, it's a downturn and the rates are going down' and I'm like, 'Come on. Are you kidding me," he said. "Your cost doesn't go down."
"What you have to do is simply figure out what is your cost per hour to run your business, and we can all do that because you've got fixed [costs] and variable [costs]," Rush said. "Figure them out, analyze it and come up with a cost per hour."
How does it work?
Trips that can be completed in eight hours or less are billed an eight hour minimum.
For longer hauls, Rush calculates his hourly rate based on an average driving speed of 50MPH, although he noted a deep dive is necessary on lanes with heavy congestion. His company has a 40 MPH average through the Boston area, for example.
"[On trips of 350 miles or more], you can set your clock that 99% of the time you're going to average 50MPH almost everywhere you go," he said. "Then you throw in your time to load and time to unload, and whatever costs may be in there consistently, then you just multiply by the hourly rate you need."
For example, for a 300 mile trip Rush said Carbon Express would calculate that trip, start-to-finish, at 10 hours, multiply that by its hourly rate and add fuel costs (fuel economy across the fleet is averaged to account for consumption), tolls and any other accessorial fees that may apply. Two hours each for load pickup and delivery are baked into the hourly quote.
"Finding the [average] mile per hour and then finding out what your cost is per hour," he said, "those are two parts that you need and then it's easy."
Drivers rejoice
Caron Express started paying drivers an hourly wage around the time the company transitioned to ELDs 12 years ago, and drivers are paid by the hours logged on the device.
"We pay our drivers by the hour, so charging by the hour makes all of this work," Rush said.
On-highway drivers routinely can earn between $80,000 and $100,000 annually while local drivers sit between the low $70,000 and low $80,000.
"One of the big contributors so safety, in our opinion, is pay," Rush noted. "If you pay them to go fast, they're going to go fast. If you pay them to go the speed limit, they're going to do the speed limit. So, you've really got to look at pay as part of your safety."
Carbon Express pays drivers time and half, puts them up in hotels overnight and spares little expense in getting drivers home on weekends.
As a result, Rush said turnover is "in the single digits if we have any at all," adding the company has lost three drivers this year, and those were driven by a business drop off in their lanes.
Charging by the hour, Rush said, has put a greater emphasis on making sure shippers are just as respectful of Carbon Express' driver's time as he is.
"What we're going through right now [with the transition to ELDs], is not unlike deregulation. And deregulation took a number of years to sort out before it moved on to the next period, and the period between deregulation and now has really taken the trucking industry forward in some ways but backwards in many," Rush said noting the backwards movement came in the abuse of drivers.
Carbon Express instituted fees for afterhours loads as means to provide drivers willing to take these undesirable hauls with additional pay.
"We also bill extra for weekends or holidays, and when asked to load a longer trip on Friday for a Monday delivery our [customer service] folks are trained to ask that out of respect for our drivers – home time with his or her family – is there a possibility that this load can deliver on Tuesday," Rush said, adding with the added fees many of these once-urgent loads all but disappeared and were rescheduled during normal business hours. "You would be very surprised to see how many weekends or holiday loads are then moved off, and how many loads really do not have to be there on Monday."
Hourly rates have also gotten shippers' attention with regard to detention as an extra 15 minutes sitting at the dock is billed back to the shipper or receiver at the hourly rate for each additional hour the driver spends waiting.
"If there's no consequence, [shippers] are going to do whatever they feel like doing," Rush said. "If a customer refuses to pay detention, we do not do anymore business with that customer."
No means no
The shift toward an hourly rate structure, Rush said, wasn't met with much pushback from customers, and he said many found it easier to understand than cost per mile.
"If you use $100 an hour, what do you think that comes to per mile [at 50 MPH]? Two bucks a mile," he said. "It's so much easier to say I'm charging you $100 an hour to do this run because it's going to take me X amount of hours to do it."
The deep dive into how long it takes to move a load also enabled Rush to move away from unprofitable loads.
"We walk away from so much freight now because it doesn't match what we need for the hour," he said, "and our bottom line has done nothing but go up. We don't struggle like we used to make a good bottom line."
Carbon Express has seen its fleets grow from 23 to 72 trucks.
"It's taught us to be able to say 'no' and made it easier," Rush said, "because if you're not making money at it, why do it? Most trucking companies are afraid to ask for more money. I'm not afraid."