Trailer orders for November hit 20,200 units, falling 34% from October, according to preliminary data released by FTR Monday.
Fleets are being cautious with truck orders, and FTR Vice President of Commercial Vehicles Don Ake noted "it makes sense that trailer orders would follow suit."
Trailer orders dropped 55% from the same period last year – a time when OEM production capacity limits prompted carriers to place large orders that locked in build slots throughout this year. Trailer orders for the last twelve months total 215,000 units.
"There is no reason to order in large quantities like last year. The supply of trailers has almost caught up with the demand for trailers, so ordering levels are flattening out and fleets are watching the market closely," Ake said. "There is still too much uncertainty regarding the economy, trade, tariffs and politics for companies to have a great deal of confidence right now for 2020."
OEMs, Ake added, currently have plenty of production capacity to handle a more stable freight and trailer demand environment into 2020, so fleets are placing smaller orders and only a few months out.
Production continues to fall moderately on a per-day level as freight growth has stalled, Ake said adding there is still a decent demand for dry vans and reefers, but the vocational segments, especially flatbeds, continue to weaken.
"It is expected that orders will track in this range for a while, as fleets continue to place modest-sized orders for short-term needs," he said. "OEM lead times are much shorter than a year ago, so ordering patterns will be much different, and more stable, than last year's cycle."
North American Class 8 orders for November dropped more than 20% from October according to FTR. The 17,300 units booked last month were the lowest total for November since 2015.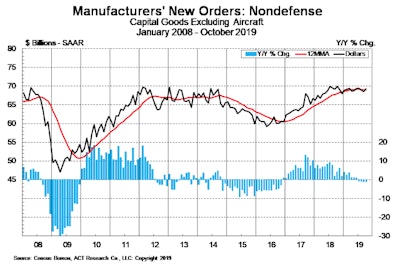 Recently, ACT Research trimmed its expectations for Class 8 truck and trailer production volumes for 2020, and its confidence in a recovery beginning in 2021 have been tempered.
"Broadly, there are three components to the forecast cuts for 2020 and 2021: Supply, demand, and timing," said ACT's President and Senior Analyst Kenny Vieth. "Some, like overcapacity, have been on the radar for a long time. Others, like the growing weakness in manufacturing and the broader economy, have come on slowly and inexorably over several months."
Vieth noted the past six months have been marked by a continued loss of traction in manufacturing and despite the GM-impacted payroll increase in November, "most recent evidence from the sector suggests that recovery is likely to come later, rather than sooner," he said.