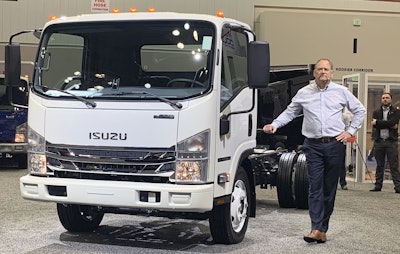 Diesel isn't dead, but it's certainly under siege in the last-mile segment.
Isuzu's lineup has featured a gas-powered truck in the North American market since 1994, and at the Work Truck Show in Indianapolis on Wednesday, the company added two new gasoline engines to its N-Series.
A 6.6-liter V8 will be available in the Class 3 NPR and Class 4 NPR-HD, while a 6.0-liter V8 is slated for offering in both the Class 5 NQR (17,950-lb. GVWR) and Class 5 NRR. The NRR will be the first 19,500-lb. GVWR low-cab-forward truck on the market to offer a gasoline engine option.
Emissions regulations, definitions of which Isuzu Commercial Truck of America President Shaun Skinner called "a work in progress," have made gasoline an attractive option when coupled with a shortening length of haul and the mechanical complexities of a modern diesel engine.
"Gas truck sales for the entire medium-duty segment continue to grow," Skinner said, noting gasoline engines account for 50% of Class 4 and 5 medium-duty truck sales.
Sales of gasoline trucks already make up almost 50% of Isuzu's North American sales, and Skinner said greater emphasis has been placed on research and development on gasoline powertrains.
The new small-block 6.6-liter V8 direct-injection engine has a power output of 350 hp and 425 lb.-ft. of torque at 3,800 rpm. It features variable valve timing, a variable displacement oil pump that fluctuates oil pressure based on engine demand.
The engine will be matched to a General Motors-engineered 6L90 six-speed automatic transmission with double overdrive and a lock-up torque converter.
Standard cab and crew-cab models will be available, with wheelbases ranging from 109 to 176 inches.
The new 6.0-liter V8 engine will be certified and supplied by Power Solutions International and built from a GM Vortec V8 block that has been customized to Isuzu specifications, and it will produce 311 hp and generate 353 lb.-ft. of torque at 4,150 rpm. The engine will be matched to a six-speed Allison 1000 RDS transmission with power-takeoff capabilities – the first time Isuzu has offered a PTO in a gas-powered truck.
A standard cab with seating for three or a crew cab with seating for up to seven both are available in wheelbases ranging from 132.5 to 176 inches.
Each new gasoline model will offer a 38.6-gallon stainless-steel fuel tank, and both engines feature a 200,000-mile design life.
Spartan Motors will handle assembly of the trucks from its facility in Charlotte, Mich. Production of NPR Gas (12,000-lb. GVWR) and NPR-HD Gas (14,500-lb. GVWR) models equipped with the new 6.6-liter V8 gasoline engine will begin this July. Work on the Class 5 units equipped with the 6.0-liter engine is expected to begin late this year or early next year.