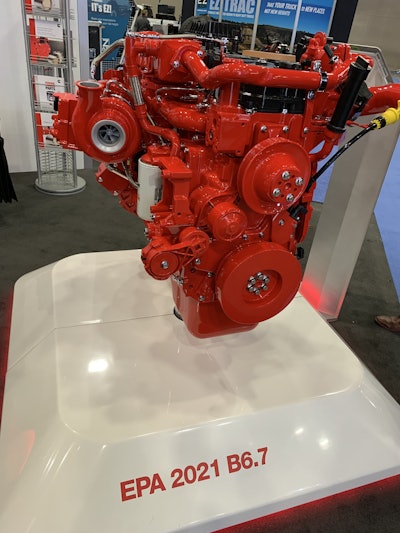 Cummins, at the Work Truck Show in Indianapolis Tuesday, debuted the company's EPA 2021 compliant medium duty B6.7 and L9 engines.
As part of Greenhouse Gas (GHG) Phase 2, medium- and heavy-duty engine manufacturers are required to improve fuel efficiency and cut carbon pollution to reduce the impacts of climate change through model year 2027.
The L9 and the B6.7 have more than 80% medium duty marketshare and are in use by more than 70 truck manufacturers.
The next generation L9 (260 – 380 hp, 860-1250 lb.-ft.) engine features a lower peak torque speed, which decreases friction and a modified camshaft valve timing reduces pumping losses while optimizing combustion. It gets a fuel economy bump of 5% and a new three year, unlimited mile base warranty.
The B6.7 (200-325 hp, 520-750 lb.-ft.) gets an additional exhaust manifold pressure sensor for improved OBD and a more robust turbo speed sensor.
Both engines for 2021 feature extended oil drain and fuel filter intervals and a new maintenance-free breather. A next generation CM2450 control module and upgraded controls software improve computing capabilities of both models.
"It's like an engineer riding Ali with the truck all the time," Rob Neitzke, executive director of Cummins' On-Highway North American Original Equipment Manufacturer (OEM) Business, said of the improved onboard computer.
Additionally, Cummins Westport Director of Sales, Marketing and Product Development Tom Hodek announced the B6.7N natural gas engine has been certified Near Zero – meeting 0.02 NOx emissions levels.
"You're not going to find a cleaner engine on the market today," he said, noting Cummins' natural gas lineup already meets or exceeds emissions requirements through 2027.