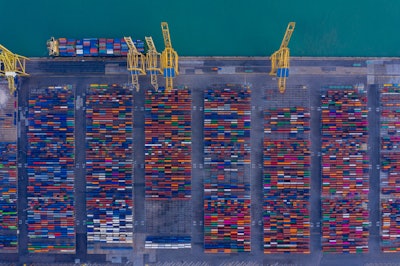 Conditions for the trucking economy might well improve this year, said speakers at two presentations during the annual meeting of the Truckload Carriers Association near Orlando, Florida. However, the path to recovery isn't likely to be a steady improvement, partly because of the impact of the COVID-19 coronavirus.
"It's got to get worse before it gets better," said Tim Denoyer, vice president and senior analyst with ACT. He presented "How the Class 8 Cycle Drives Freight Rates."
The current downturn has lasted five or six quarters, and trucking slowdowns "tend to not last more than two years unless we're in an economic recession," he said. While the full impact of the virus is difficult to predict, "Things are starting to ramp back up in China," so there's "a very good case for a bounce-back in the second half of this year." For now, though, "Imports out of China have slowed down to almost a halt right," and there continue to be ripple effects from Boeing production being severely cut back.
Dean Croke, chief insight officer at FreightWaves and a panelist on "Current and Future State of Truckload," also said he'd heard of some resumption of production in Asia. But given what's taken place, "a ripple effect literally will hit the truckload markets in the next couple of weeks."

Click here to view our full coverage of the coronavirus' impact on the trucking industry from the leading industry publications of Commercial Carrier Journal, Overdrive, Truckers News and Trucks, Parts, Service.
Rail carloads leaving Los Angeles in recent days have been half the usual totals, he said. With fewer container ships docking in U.S. ports, the slowdown even crimps the volume of exports leaving the West Coast.
However, the virus isn't the only factor in a "fundamental shift in truckload volumes" that has affected the West Coast. Croke said the trade war with China had already prompted many U.S. customers to realign their supply chains to include the Philippines and other parts of Southeast Asia. Some of that freight had been moving through the Suez Canal and delivered on America's East Coast instead of the West Coast.
Spot market rates "are starting to get less negative," though ACT's spot market leading indicator calls for rates to "get worse before they get better," Denoyer said. "We think spot rates will end the year in positive territory."
The Cass Shipments Index has been down more than a year. Less-than-truckload tonnage went flat at year-end, Croke said, and in the fourth quarter ports experienced their worst period since the Great Recession.
More optimistically, reefer volume showed unusually strong year-over-year growth in late 2019, he said. Flatbed carriers are rejecting loads at a higher rate, a sign their segment is strengthening and the sector's seasonal uplift is at hand. A measure of "home purchasing sentiment" has climbed to one of its highest levels, also promising for flatbed.
If, indeed, freight improves in the second half of 2020, truck production, too, could see a rebound then, Denoyer said. Following the second-highest level of Class 8 production ever last year, "Production is coming down, and probably needs to come down further," he said. "Demand is running a bit below OEMs' build plan." With current excessive truck inventory, Croke said, pricing will be "pretty flat to depressed this year."
In the used truck market, there's a "big dichotomy" between the values of older and newer trucks, Denoyer said. "Three-year-old trucks are holding their value extremely well," possibly because of their fuel economy and advanced safety equipment. With 7-year-old trucks, pricing has fallen over 25% in recent months.
Denoyer cited another factor that's likely to impact the new and used truck market, though further down the road. That's an advance notice of proposed rulemaking, announced Jan. 6, that would further reduce NOx emissions. The Cleaner Trucks Initiative, as proposed by the U.S. Environmental Protection Agency, will take place mostly in 2026, affecting model year 2027 trucks, he said.
"It's going to cost a ton," Denoyer said, and result in "the biggest pre-buy ever."