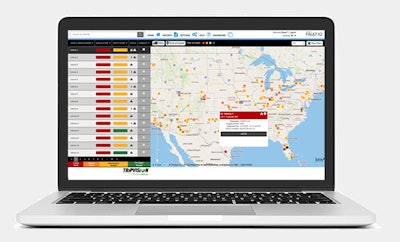 "Predictive" was a common theme in fleet management technology over the past week. A number of suppliers have developed new applications that combine data with mathematical formulas to create insights about likely outcomes in time to positively influence results.
Below are five areas where predictive tools made new inroads:
1. Human resources
Driver retention firm Stay Metrics announced a partnership with Predictive Index to be a reseller of its behavioral assessment tool in the transportation industry.
As a reseller, Stay Metrics is expanding its scope of services beyond offering driver surveys and rewards platforms. The company is now offering a service to predict the success of job applicants for positions and to determine where to move employees in an organization to find the best fit.
Tim Hindes, co-founder and chief executive officer of Stay Metrics, commented that in his 35-year career in business, "this is the first time I've seen a tool that truly optimizes talent and I'm very excited to explore what this means for our industry as a whole."
The tool is utilized for more than 8,000 employers worldwide. It measures employee motivation using assessments that allow each employee's answer to be infused with behavior and their own unique style to gain insight into commitment, opportunities for growth and retention.
Hindes says the tool will help the transportation industry do a better job of raising effective leaders from within while recruiting the best leaders outside the organization in sales, operations, recruiting and executive positions.
2. Shipment visibility
Frozen Food Express (FFE), the largest asset-based, temperature-controlled LTL carrier in the United States, is using a predictive shipment visibility tool from FourKites that gives internal users and customers visibility of in-transit loads.
Internally, FFE is "saving tremendous man hours" by giving people a single dashboard to track the status of freight in transit, says Nick Cook, CIO and vice president of operations.
With the technology, FFE is also providing customers the option to have a dashboard showing the status of of their loads in progress as well as receive email links to track individual shipments online.
FourKites gathers real-time LTL shipment information from FFE's electronic logging devices (ELDs) and trailer tracking, and pulls in LTL service center information, along with truck-specific traffic, weather, temperature and more than 150 additional data points to provide granular, real-time visibility throughout the lifetime of FFE's active loads.
FFE is also using FourKites' Temperature Tracking system to automatically trigger an alert as soon as a load's temperature falls outside a predefined range.
"We're managing more than 400,000 active, temperature-controlled loads annually. To continue to be a trusted partner, we needed cutting-edge technology to help us better manage and measure our performance," Cook said. "Now, we're able to troubleshoot the loads that are predicted to be late, rather than focusing man-hours on shipments that we know will deliver on time."
3. Cargo detection
Spireon released a new Image Capture and Retrieval feature for its IntelliScan cargo sensing technology. Fleets that use the IntelliScan technology with cargo detection methods that achieve 99.9% accuracy in cargo detection can now receive high-definition images from inside a trailer.
"How many times have you wished you had eyes inside your trailer when you're trying to validate a detention bill? How many times have you sent a driver for a trailer only to find it's still loaded?" asked Roni Taylor, senior vice president of strategy and business development at Spireon. "With IntelliScan, not only will you know with unprecedented accuracy when a trailer is loaded or empty, now you can see it, save it and share it."
With the technology, fleets could get proactively detect load shifts before opening the doors as well as resolve claims with time-stamped images.
4. Freight matching
In the logistics sector, Transport Pro, which offers a web-based transportation management system used by freight brokers and motor carriers, has a new integration with SaferWatch to automate the carrier monitoring process.
SaferWatch, from Truckstop.com, allows users to validate, onboard, and dispatch new carriers quickly. Carrier compliance teams can approve and add new carriers to their network in a matter of seconds by entering the carrier's MC or DOT number in Transport Pro, reviewing the information via SaferWatch, and clicking a button to add the carrier profile to Transport Pro.
Motor carriers that do business with Circle Logistics, a Fort Wayne, Ind.-based logistics company, will soon be able to use DAT Book Now, an automated freight-tendering technology.
DAT Book Now allows carriers on the DAT network of load boards to search for freight and lock in a rate with the click of a button on their mobile or desktop device.
5. Remote diagnostics
Zonar has added a new FaultIQ feature, powered by Noregon, to its Fleet Health Solution Suite. FaultIQ gives real-time visibility to fault data from an entire vehicle with a recommended action plan. In addition to FaultIQ, Zonar's Fleet Health Solution Suite has diagnostic and monitoring offerings of Cummins Connected Diagnostics with Connected Advisor, Zonar OTAir, Detroit Connect Virtual Technician SM, Detroit Connect Analytics and Zonar Ground Traffic Control Diagnostic Report.