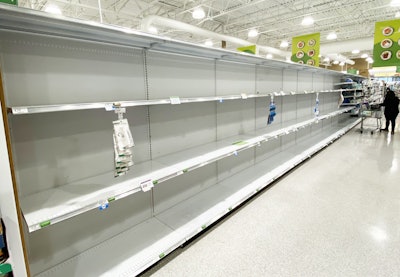 No one wants to get sick – and I'm a terrible sick patient, just ask my wife – but I can't recall ever upending my entire life to avoid exposure to illness. I dropped part of a banana on the kitchen floor yesterday and, after a few moments of consideration, ate it anyway.
As of this writing, there have been about 1,700 confirmed cases of the coronavirus in the U.S., encompassing 46 states and D.C.
I have spent much of the last two weeks in airplanes, and given the abnormally low foot traffic in some of the busiest airports in the country, it's clear that people are officially leery of moving themselves around. But trucking doesn't have that option. If you've tried to buy toilet paper in the last 10 days, you've probably experienced just how delicate our supply chain is and how exposed it is to wild swings of fear-driven demand.

Click here to view our full coverage of the coronavirus' impact on the trucking industry from the leading industry publications of Commercial Carrier Journal, Overdrive, Truckers News and Trucks, Parts, Service.
This was supposed to be a bounce-back year for a
trucking industry
that did all it could to just survive 2019, but that forecast was pushed later into 2020 before anyone figured out that coronavirus had nothing to do with a Mexican pale lager.
"Until late February, we expected to see a gradual but steady recovery in trucking conditions after a mildly weak first quarter," said Avery Vise, FTR's vice president of trucking. "The panic over the coronavirus as well as recent developments regarding global oil markets have injected considerable risk and uncertainty into this outlook. While many of those risks are to the downside, the situation also could develop in ways that might benefit trucking companies in the coming months in terms of volume, utilization and rates."
Domestic port and rail volumes are starting to reflect the drop in Chinese output, impacting the supply-side of basic supply and demand. ATA Chief Economist Bob Costello said Friday volumes at the ports, particularly the West Coast ports, are plummeting. So far this quarter, he said 58 ship sailings from China have been canceled.
"Compare that to a year earlier when the trade war was raging when 33 were canceled," he said.
"Being a supplier of intermediate and finished goods, there are major implications for a number of freight-intensive economic sectors, and we are just on the cusp of feeling that pinch," added ACT President and Senior Analyst Kenny Vieth.
Toilet paper and Purell aren't the only things weighing on the COVID-19-stressed supply chain.
Freight volumes of bottled water and non-perishable foods are surging, Costello said, "because Americans are stockpiling in case we are quarantined for an extended period." However, he said, this spike will be short lived and there will be payback in softer volumes for these goods later.
A survey released Thursday by Institute for Supply Management showed that almost 75% of respondents have already seen coronavirus-related transportation disruptions with another 80%-plus expecting to see some impact.
Nikola Motor Company still expects to launch its long-awaited Class 8 truck next year, but CEO Trevor Milton told me this week that "due to the virus, supply chains may be affected."
Navistar CEO Troy Clarke said his company engaged a third-party vendor to thoroughly evaluate its supply base and determine the potential business impacts of COVID-19.
"At this time, we have determined it is a low-severity issue," he said. "The minor issues seen to date have been mitigated through air freight, substitutions of parts and monitoring of suppliers. We have prepared a triage team to rapidly react to any future supply risks, and mitigation plans have been developed for high-risk components."
Even if you can balance your supply chain you still need healthy people to pull it all together, and everyday it gets a little harder to conduct business as usual.
Glenn Larson, president and CEO of TLG Peterbilt, recommended his employees temporarily limit in-person meetings to only those considered "business-essential interactions or are time-sensitive and cannot be postponed. Our locations are still open during regular business hours for in-person customer care and service, but our teams are also more than happy to serve [customers] by phone, email, web chat or text."
Dealerships aren't the only place you'll find an increased emphasis on digital interaction.
Instructional Technologies Inc. polled more than 1,800 training professionals using its Sentix Learning Management System (LMS), and 60% of respondents said concerns over the coronavirus are pushing more training online versus in person.
Coronavirus concerns have hit us both where we work and where we play. Major sporting events around the country are either suspending games or canceling contests outright, and that has filtered into truck trade shows and other industry gatherings.
The Mid-America Trucking Show, one of the largest such annual shows in the U.S., announced yesterday it was canceling this year's event, which was set for next month in Louisville, Kentucky.
Whether you think this is a politically-driven, media-fueled fear-mongering campaign or a global health crisis, the effects of COVID-19 are being felt in places far beyond the doctor's office.
Costello noted a few economists are now saying that the U.S. is in a recession and even for those that aren't are forecasting very little GDP growth this quarter and a negative reading next quarter.
"I still think it is too early to make that call, but the trends are pointing in that direction," he said.
Trillions of dollars have already been sapped from global markets. The financial implications from the coronavirus will be exponentially worse and more widespread than the virus itself.