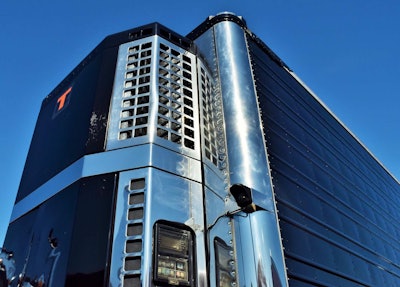 A few years ago, Stokes Trucking started getting more requests for temperature data from shippers, freight brokers and receivers.
The company uses an ELD and fleet management system from Samsara and is in the process of installing a telematics system in its trailers, also from Samsara.
Customers will ask for data in the event a receiver detects a temperature issue when freight is unloaded by using a temperature probe.
When these events occur, Stokes Trucking can send a data record of the reefer trailer temperature from the time it was pre-cooled to when it was loaded and arrived at the destination, said Tyler Howell, safety administrator at the Tremonton, Utah-based fleet with 35 power units.
Generally, truckload motor carriers are protected from cargo claims when data proves their reefer set points and ambient trailer temperatures are within a specified range from the origin to the moment trailer doors were opened and the shipment changed custody, said Brad Bartlett, vice president of sales for Cooltrax.
When trailer doors open multiple times during the day, such as truckloads with multiple delivery stops and less-than-truckload operations, motor carriers have greater risk when receivers find issues with product temperatures.
The reefer data will show a wider variation in ambient temperature whenever doors are opened, and "all of that data comes into question," he said, which is "so distracting."
Variations in the ambient temperature of a load do not necessarily mean the quality or safety of food is compromised. The temperatures of the actual cargo may still be consistent, he explained.
Coming regulation
Going forward, regulations may require shippers and carriers to provide more visibility of temperature data down to the product level, particularly for loads that have multiple delivery stops.
The Food and Drug Administration (FDA) has been preparing to meet a key requirement set forth by the Food Safety Modernization Act (FSMA). The status of the new regulation has become less clear with the outbreak of the coronavirus, but it could impact motor carriers.
Signed into law in January 2011, FSMA gave the FDA broad authority to create regulations for the supply chain that, to-date, have focused mostly on policies and documentation for the safe handling and transportation of food.
The FDA will focus on technology to meet the Section 204 of the FSMA law called a "New Era of Smarter Food Safety." This section requires the FDA to modernize track-and-trace capabilities and record-keeping in the food supply chain.
The goal is to better prevent, mitigate and investigate food safety issues in support of a more digital, traceable and safer food system.
In October 2019, the FDA held a public meeting to discuss a blueprint for the New Era of Smarter Food Safety as it continued to gather comments from motor carriers and other industry stakeholders. The docket for those comments closed Dec. 5.
Product-level visibility
Forthcoming regulation from the FDA will likely add a greater burden on foodservice providers since they are both the shipper and carrier for products. Increasingly, more companies in this marketspace are using technology to manage temperatures at the product level, he said.
Cooltrax has an industrial Internet of Things (IoT) platform, Fresh InTransit, that combines two-way reefer controls and data with cargo-level data from wireless Wedge temperature sensors on pallets and individual products.
Foodservice distributors often use trailers with separate compartments to transport products at different temperatures. With the Cooltrax Fresh InTransit system, they can establish temperature checkpoints for routes.
The checkpoints use geofencing to mark locations for the planned stops on a route and will flag exceptions if products inside a trailer compartment exceed the specified temperature range, Bartlett said.
For example, a foodservice company might use six temperature sensors in a trailer or individual product-level sensors. When combined with door sensors, the Fresh InTransit platform detects if products go out of range at any checkpoint and at any point between.
The telematics device sends exception alerts to a management dashboard. Managing exceptions at the pallet and product level is much more defensible than relying on ambient temperatures in trailers.
"At the end of the day that is what you are really after," he said. "The only temperature you can defend is what is happening at the product level."