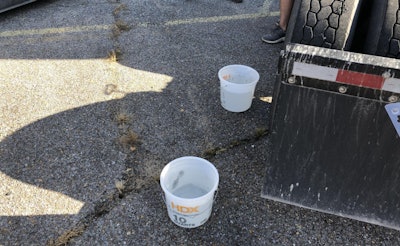 The Technology and Maintenance Council (TMC) S.4 Cab & Controls Study Group is charged with helping "improve the design and maintenance of cab components and systems to enhance the driver's ability to properly, comfortably and economically operate highway vehicles," but they just might play a front-line role in keeping the trucking industry safe from the COVID-19 coronavirus.
Last fall, at TMC's meeting in Raleigh, N.C., the group pushed forward a recommended practice (RP) update approving the use of chlorine dioxide (ClO2) to combat bed bug infestation in a truck cab. RP 443 showed ClO2 was "100% effective" in the removal of bed bugs, with the additional benefit of "complete odor removal."
Six months later, and now in the throes of a global pandemic, Maverick Transportation Regional Service Manager Greg Johnsen started looking into if carriers could use the chemical in the fight against COVID-19, simply leaving bed bugs as collateral damage.
"I started digging into ClO2," said Johnsen. "Upon reading the literature I could find online, I noticed this product will kill just about everything. This product is used heavily in the mold remediation industry as well as for removing smoke odors from fire damage."
Johnsen reached out to a chemical manufacturing company, who confirmed that ClO2 was effective against pathogenic micro-organisms such as bacteria and viruses.
On March 18, he sent an email to TMC Executive Director Robert Braswell, urging him and the group to consider adding another update to RP 443, this time endorsing ClO2 as effective as a coronavirus decontamination agent in the cab of a truck.
"That this virus can be killed with soap and water is reported by the CDC. Viruses are a fragile organism outside the body, unlike mold spores or other spores which have a hard shell," he said, noting that because it is effective against spore-forming bacteria, chlorine dioxide can also be used against anthrax. "As this product kills [spores], it seemed to be a natural progression in my opinion."

Click here to view our full coverage of the coronavirus' impact on the trucking industry from the leading industry publications of Commercial Carrier Journal, Overdrive, Truckers News and Trucks, Parts, Service.
Johnsen placed an order March 20 for enough ClO
2
tablets to sanitize 50 Maverick trucks and has since used it 23 times, "out of an abundance of caution," he said. Two uses were prompted by drivers who reported feeling ill, but didn't test positive for coronavirus. The chemical now, and going forward, is part of the Little Rock, Arkansas-based carrier's regular cab sanitation practices.
"The original thought process was, if the driver gets sick we can use this to sanitize the truck," he said. "Secondarily, we decided any time a driver leaves us, we're going to use this process to prep the truck for the new driver out of an abundance of caution."
Johnsen, who tested negative for COVID last week, noted that the product was far from "a silver bullet," but given that the coronavirus is such a serious and widespread issue, said he feels "we are very close" in getting the RP update passed after barely more than a week of conversation among S.4 stakeholders.
"When dealing with an issue of this proportion," he said, "you want to make sure the I's are dotted and the T's crossed."
The RP protocol for eradicating bed bugs using ClO2 calls for the removal of all soft goods from the cab, including mattress and curtains, and sealing vents and door seams. Visible signage should be placed in the window warning not to enter the truck, and that a treatment is taking place. A bucket with one gallon of water is placed on the bunk and another with one gallon of water on the floor with a battery-operated aerator placed into the buckets. A ClO2 pellet is gently placed in each bucket, aerators turned on and the cab sealed, and left for five hours (24 hours if you don't use an aerator). When the process is complete, all APU and cabin filters should be changed.
As for how the process itself might differ in attacking the COVID coronavirus, Johnsen said that is a work in progress as the update is still in the final review phase with S.4.
However, the short version, he said, is "we can fully sanitize a Class 8 tractor in less than seven hours. Ten hours if you include three hours that the virus could live as an airborne contaminate."
The protocol for the cab disinfection method, as posted to TMC Connect this weekend, is to open the refrigerator and all cabinets in the truck and sleeper berth, affix treatment signs to all exterior truck entry points and tape over exterior vents with non-marring tape to seal the cab. Place one gallon of water in a pail, hang the battery-powered aerator on the edge and extend the hose with an air stone to the bottom. Place the pail in the center of the truck on the floor, turn on the aerator and place a 100 gram ClO2 tablet into the pail and exit the truck cab, closing vents, doors and windows for five hours or until vapors cease and water is clear. Leaving overnight is ideal. When the ClO2 solution has turned clear, it can be disposed of via discharge into a sanitary sewer. After treatment, flush the treated space with fresh air for up to one hour or until the odor has dissipated. This can be expedited using a fan or blower. After replacing the cabin air filter and bunk air filter, the truck can be returned to service.
"When used as a liquid, you spray it on a surface and walk away," Johnsen said. "No need to wipe off or clean afterwards, as it is a disinfectant. We can do this vapor process for about $20 per truck. A small cost for keeping our driver and technician population safe."
If sanitizing using ClO2 in liquid-form, open the cabinets and refrigerator, cleaning any highly soiled surfaces with an appropriate cleaner. Select a container size-appropriate for a ClO2 dilution level of 500 parts per million (ppm) – a 20 gram ClO2 tablet for a gallon of water, or a 100 gram ClO2 tablet for 5 gallons of water. Gently place the tablet into the water and allow two to three minutes to dissolve. Check the solution with a test strip to confirm its strength is between 250 ppm and 500 ppm, and fill a wet fogger or sprayer with the ClO2 solution. Wet fog or lightly spray all surfaces, ceiling to floor, allowing five minutes of wet contact time. No wiping or rinsing is required, and allow surfaces to dry before returning the truck to service.
Chlorine dioxide can be used in vapor- or a liquid-form, but as a liquid it is more fragile and its effectiveness is vulnerable to sunlight. Once diluted from tablet- to liquid-form, it has a shelf life of up to six months if stored correctly in an air-tight opaque container out of direct sunlight.
For in-cab treatment, the vapor and liquid methods can be combined, with the deeper cleaning vapor treatment being performed first and the liquid treatment applied afterward to surfaces and/or common touch points.
A nationwide buying frenzy on most consumer disinfectants is already underway, and with stores across the country struggling to keep up with demand for Lysol and bleach, Johnsen said his local chemical supplier has already told him there's an increased demand for ClO2.
"He called and said he just sold 1,000 packs," he recalled. "I asked him how many he had left and he said 50, and I told him, "'well now you have 25, because I want half of them."
See all of CCJ's COVID-19 coronavirus coverage at this link.