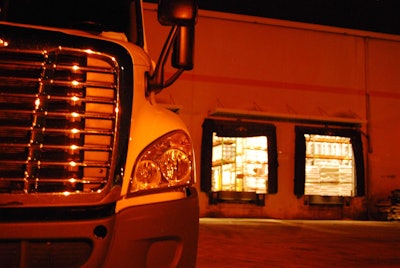 See all of CCJ's COVID-19 coronavirus coverage at this link.
Motor carriers, 3PLs and logistics providers are rightfully concerned about protecting their workforce, including contracted and employee drivers, and vendors and customers from COVID-19 exposure, while still working around the clock as first responders in continuing the flow of goods. Quick decisions and directives are likely necessary in these unprecedented times.
The legal landscape is shifting rapidly with emergency declaration, regulatory suspensions and shelter-in-place orders. However, the federal, state and local rules that govern classification of workers—those who are employees and those who are independent contractors, including owner-operators—have not shifted.
This creates potential for legal trouble down the road for carriers issuing urgent directives to workers or instituting new health and safety policies. The manner and nature of these directives from a carrier to contracted drivers and other workers and vendors can expose legal liability.
Many companies are establishing new employee guidelines and policies related to workplace illness, absences and preventive measures. But what about independent contractors? How hands off should carriers be with independent contractor drivers regarding hygiene and other health and safety requirements? Can a carrier refuse to assign loads to an owner-operator who is exhibiting signs or symptoms of COVID-19? With a significant portion of the U.S. trucking workforce consisting of independent contractors and owner-operators, how do carriers ensure protection of these drivers and their business without exhibiting so much control as to risk misclassification?
It's easy to overlook the legal restrictions on control over independent contractors — and to start to blur the line between those contractors and company employee drivers, creating misclassification risks. This is further complicated when motor carriers, as many do, utilize both employee drivers and owner-operator (contracted) drivers.
Misclassification of independent contractors and owner-operators has been a major industry issue for years, especially of late as states have moved to reign in the so-called "gig economy." While misclassification itself is not a private cause of action, mistaking employees for contractors can lead to hefty fines, audits, back-tax payments and costly defense of tangential litigation for motor carriers.
California's passage of its A.B. 5 law late last year codified the "ABC test" for independent contractors in the state, meaning the state's law now presumes every worker to be an employee unless they can pass the rigid, three-part test that is particularly difficult for the transportation industry. While trucking groups contest the application of A.B. 5 to the trucking industry, other states, such as New Jersey and Washington, are moving forward with similar laws.
The IRS and some states practice the common law "20-factor" test for independent contractors, sometimes called the Borello test.
But all tests examine the amount of control the hiring entity has over the worker.
Prong "A" of the ABC test requires that a worker be "free from the control and direction of the hiring entity in connection with the performance of the work" while the 20-factor test's "instruction" prong asks, "Is the worker required to comply with instructions about when, where and how to work?"
It's these "control" and "direction" portions of the tests that are of most concern when addressing COVID-19. Drivers are traveling across the country and could be exposed to the virus at shipper locations, destinations and truck stops. As an employer, carriers have a legal duty to maintain a safe and hazard-free workplace.
The CDC and OSHA have issued guidelines on preventive measures employers should take, including requiring employees with symptoms of COVID-19 to stay home, implementing heightened cleaning procedures in workspaces and company vehicles and requiring workers to maintain a distance of six feet or more from others. Customers may also have requirements regarding deliveries that carriers must enforce, such as certain sanitation procedures for parcels. Could mandating that independent contractors to abide by similar policies amount to exercises of control? Possibly — but probably not, if handled correctly.

Click here to view our full coverage of the coronavirus' impact on the trucking industry from the leading industry publications of Commercial Carrier Journal, Overdrive, Truckers News and Trucks, Parts, Service.
Courts have held that requiring independent contractors to follow identical policies and procedures as employees as described in an employee handbook amounts to excessive control over the independent contractor.
In contrast, courts typically find that general policies that direct peripheral matters, such as the contractor's appearance or how the contractor interacts with customers, are not sufficient exercises of control. In 2014, a federal court in Florida held that an appendix to Lowes' contracts for installation services titled "Standards of Courtesy and Professionalism" that set guidelines regarding personal hygiene and customer interaction was not sufficient evidence of "control" to make a worker an employee.
Under this logic, implementing guidelines and policies for independent contractors that address proper handwashing and sanitizing techniques to prevent the spread of COVID-19 and foster a safe working environment should not expose carriers to misclassification issues.
To keep appropriate separation between employee-specific policies and general directives for business interactions, carriers should issue these policies either as universal standards or separately with employees and with other contractors and vendor parties. For contractors, this could come in the form of a contract addendum. It could also come in the form of standards for keeping and maintaining equipment and personal hygiene.
If the mandate is that no one showing symptoms or knowingly exposed to the virus may drive for the carrier or interact with the fleet, then it should be handled specific to the contractual relationship between the parties. Scrutiny of existing contracts may be necessary to look for terms of interruptions of service. If any policies are employee-specific, then those policies should be kept separate from directives issued to third parties, including contractors.
For a specific example, consider someone who is a presumptive case of COVID-19. Carriers probably cannot order independent contractors to stay home, because those contractors presumably have independence to work for other carriers (depending on exclusivity provisions in the contract — although such provisions may also run afoul of the independence tests). Carriers could, however, have a policy not to provide loads to a contractor with COVID-19, especially if the contract has a provision stating that work is not guaranteed.
Such "no guarantee of work" provisions explain the carrier is not required to provide loads to the contractor and are helpful in separating employees from contractors. Carriers may also wish to review or amend their contracts to include a specific portion addressing health and safety concerns. Additionally, fleets could consider adding an addendum to existing independent contractor and owner-operator agreements to clarify procedures related to COVID-19 and allow for temporary suspension of duties. Fleets should be cautious to ensure such language would not terminate the existing contract.
Overall, in these uncertain times, fleets should be committed to protecting their workforce. In doing so, they should create policies and guidelines specific to COVID-19, while also ensuring the guidelines for independent contractors and owner-operators are not part of employee handbooks. Likewise, refrain from using language that refers to all workers as employees. Carriers should also check their agreements to see if updated language is necessary, or consider issuing an addendum to all independent contractors and owner-operators related to COVID-19. Keeping these tips in mind will help carriers protect against misclassification risks.