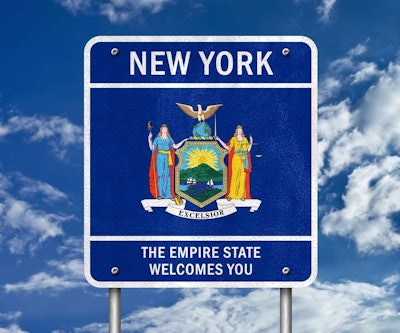 Trucking news and briefs for Monday, March 30, 2020:
CDC says truckers can still enter NYC despite severe COVID-19 outbreak
Though New York City, which has seen a severe outbreak of the COVID-19 coronavirus cases over the past week, has issued mandatory quarantine orders for residents, the Centers for Disease Control says truckers delivering supplies and food are allowed to enter the city and make deliveries. CDC says these shipments are "desperately needed for New York residents to continue their daily lives and respond to the COVID-19 outbreak."
CDC recommends that drivers entering the city to make deliveries stay in their vehicles as much as possible while supplies are loaded or unloaded and to avoid being within six feet of others as they exit their vehicles. Likewise, they advise moving to electronic paperwork where possible.
"If these drivers need to spend the night in the greater New York City area, they should stay in their hotel rooms or sleeper cab, when available, to the extent possible and continue to practice social distancing," CDC said in a press release. "Drivers who take these precautions should not need to self-quarantine when they leave the greater New York area, unless self-quarantine is recommended by state or local officials for all residents in the areas where they live."
Here's the remainder of CDC's recommendations:
Truck drivers and other workers who obtain or deliver needed supplies who live in the greater New York area may continue to work both within and outside of the greater New York area but should stay at home and practice social distancing according to instructions of state and local officials when they are not working.
We continue to recommend that all people take precautions to stay safe and keep others safe, including washing their hands regularly, staying home when sick, covering coughs and sneezes, and maintaining distance from others.
It remains our guidance that residents who were recently in the affected areas of New York… should self-quarantine for 14 days.
Yokohama halts tire production
Tire manufacturer Yokohama announced it is suspending production at its plant in West Point, Mississippi, as of March 28, in response to the COVID-19 pandemic. The suspension is expected to last two weeks, the company says.
The plant's shipping department will continue normal operations during the shutdown in order to continue service to customers.
"Yokohama's supply position remains strong, but the company will work closely with dealers to mitigate any unexpected disruptions," the company said in a statement.
Navistar recalls more than 13,000 International trucks
Navistar has issued a recall of approximately 13,570 International HX and LT models for an issue with the brake lights, according to National Highway Traffic Safety Administration documents.
The recall affects model year 2018-2021 International HX tractors and model year 2019-2020 International LT models. In the affected trucks, the brake light switch may have a weak solder joint, possibly resulting in a poor electrical contact with brake lights that don't work or that stay on.
Navistar will notify owners, and dealers will replace the brake light switch for free. Owners can contact Navistar customer service at 1-800-448-7825 with recall number 20501. NHTSA's recall number is 20V-160.