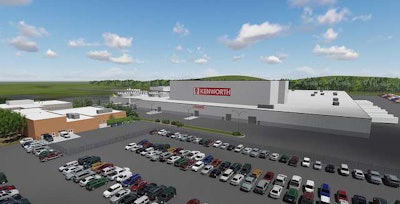 10:15 a.m. This post has been updated with information provided by Daimler Trucks North America stating their plans to extend limited production an additional week.
Truck production has been severely impacted by the COVID-19 coronavirus and its continued spread has prompted one OEM to further extend its production hiatus.
Paccar last week announced it would cease truck and engine production through April 6, but in a statement provided Wednesday afternoon extended worldwide closings to April 20.
"Paccar will continue to provide aftermarket support to its customers who deliver medical supplies, food and essential infrastructure services to our communities," the company said in a statement.
Volvo Group's Hagerstown powertrain facility, which was set to re-open this past Monday, has suspended production until at least Friday, April 10, "as part of the effort to slow the spread of the virus in our communities," the company said in a statement emailed to CCJ Thursday. "A small number of employees will work on site, performing essential activities, while following safe-distancing practices."
Mack's Lehigh Valley Operations has also suspended production through April 17 and Volvo Trucks' New River Valley manufacturing facility is currently running "a very limited production schedule," the company said.
Daimler Trucks North America didn't formally close its facilities, but scaled down and limited operations at its Mt. Holly Truck Plant in North Carolina; Cleveland Truck Plant in North Carolina; Gaffney Truck Plant in South Carolina; Portland Truck Plant in Oregon; and Saltillo Truck Plant and Santiago Truck Plant in Mexico. The company on Thursday added a week to its plans for a return to production, now targeting April 13 in the U.S. and April 20 in Mexico.
Next week was supposed to mark a return to some measure of normalcy for truck production but Navistar International, as of Thursday morning, is the only manufacturer set to resume production Monday after shuttering for two weeks its truck assembly plant in Springfield, Ohio, in response to supply chain disruptions caused by the COVID-19 coronavirus pandemic.
With factories closed and many economic headwinds remaining in the coming months, JPMorgan Thursday lowered its Class 8 truck build forecast to 162,000 this year, a drop of 53% year-over-year. However, seeing a light at the end of the tunnel, the bank bumped up its 2021 forecast 30% to 211,000 units.