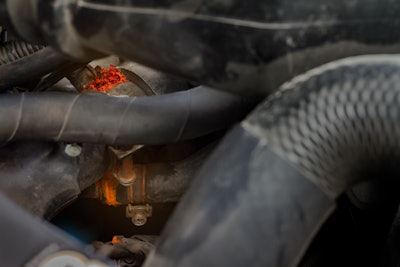 The following was published in CCJ's Equipment Maintenance Toolkit, 8th edition, sponsored by Valvoline Heavy Duty. CCJ's Equipment Maintenance Toolkit is a complementary industry resource, courtesy of our partnership with Valvoline Heavy Duty. You can download the entire Toolkit here.
Improvements in compounds used to make rubber hoses have improved their lifecycle dramatically, but they haven't changed the physics involved. Friction, pressure and heat still will cause component wear, even to the ethylene propylene diene monomer (EPDM) hoses in use today.
According to the IMR Automotive Research Group, hose failures lead to more than half of all radiator coolant hose replacements. Drew Conkling, global product line management director for Gates, recommends hose replacement at 90,000 miles to avoid an unnecessary breakdown, but he noted that severe-duty cycles such as towing, frequent stop-and-go, high-idle and hot weather can reduce that replacement range.
Extended life coolants pose another challenge, as hoses become a maintenance afterthought. Conkling said many engine manufactures have removed coolant filters from the system, and general maintenance practices nearly have eliminated the filter cartridges once used by fleets.
"Couple that with the lack of the latest information on how to handle coolants correctly, and it creates failure modes for both radiators and water pumps that border on unacceptable," he said.
The average annual replacement rate for the upper and lower radiator hose is only 1.33%, said Tom Lee, automotive aftermarket products marketing manager for Continental Contitech, citing 2018 industry data.
For coolant and fuel, internal hose degradation can be caused by a variety of things, but it most commonly is due to fluid contamination, Conkling said. A sampling of warranty claims show 40% of radiator failures and 95% of water pump failures are tied directly to the coolant's condition at the time of the repair.
"With the coolant hose, eventually the contamination particles can clog the radiator [or] cause the hose or water pump to fail," he said. "But you generally would not notice [performance issues] until then," making visual hose inspection – looking for cracking, swelling, splits and cuts – vital.
"Rubber parts – belts and hose – will typically fail internally without any noticeable signs," Lee said. "For hose, check for extreme softness or hardness. The visual signs of failure will come close to the end of product life and may be too late. A belt or hose that fails on the road can be catastrophic and most likely will always require a tow."
Lee said hoses should be inspected at all service intervals. "The ideal time is at the time of an oil change," he said. "Another good opportunity for inspection and replacement is at the time of any service work surrounding or connecting to the part. As an example, if a radiator or thermostat needs to be repaired or replaced, this is the ideal opportunity to replace the hoses. It's a good preventative measure."
The upper radiator hose moves coolant to the radiator at peak temperature and, as such, is subject to the highest amount of heat — and the highest risk of failure. However, Conkling said the entire cooling system is designed to a similar lifespan and noted the lower hose and heater hoses are likely to fail soon after the upper hose.
"You may as well replace the upper and lower hoses at the same time to save money on labor and minimize the chances of the vehicle breaking down in the future," he said, adding that if the truck is a high-mileage vehicle, consider inspecting and/or replacing the thermostat and radiator cap. Flushing the coolant system at this time also is a good idea since all the plumbing is removed.
The most obvious sign of hose trouble, other than a rupture, could be a leak, but Conkling said coolant system leak-stop additives are "unadvisable because they can obstruct the radiator and heater core, causing potential damage to other components such as water pump seals," adding that the additives are ineffective on hose leaks.
The position of air brake hoses, and any objects near them, could lead to chafing. Many of these hoses are mounted away from moving objects, and chafing is minimal, but Conkling said hoses with chafing "beyond the outer layer should be replaced" and recommended adding a hose guard or choosing a hose with an abrasion-resistant cover. Since air brake hoses only pass air along the system, there is minimal degradation to the internal hose.
Conkling said that when nylon hoses are manufactured, there is moisture in the tube, and the moisture evaporates over time. That causes the tube to dry out and crack, resulting in "the most common failure mode," he said. "This failure is known as hydrophobic. Other failure modes are rocks and road debris. Rubber air brake failures are also due to road debris as well."
The only time hydraulic hoses are near a chassis is if the application has a wet kit, and the typical failure modes for a hydraulic hose in this setting is cracking due to heat and ozone, Conkling said.