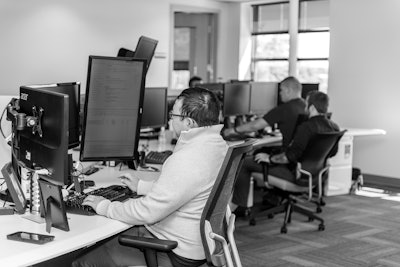 Now that many office workers in transportation and logistics are working remotely due to the COVID-19 crisis, business communication lines can get crossed. Companies using basic office and video conferencing tools, like Zoom, may be struggling to collaborate the activities of dispatch, safety and other teams.
Global software company EOX Vantage is now offering a suite of collaboration and communication tools for free to businesses through the end of the year with a program it calls TeamedUp 2020.
The TeamedUp 2020 suite includes Chat, Integrated Mail, Announcements and CRM features for widely dispersed teams to collaborate in real time and in a secure system, eliminating the need to maintain different platforms.
"We want to help businesses during this time and give back in the best way we know how – through visibility, increased productivity, security and collaboration," said EOX Vantage CEO Sudhir Achar.
As a provider of managed services for businesses, EOX Vantage has been around since 2008. The company has 400 employees with a large operation in India, that provide managed services to lower the cost of administrative functions for businesses.
EOX Vantage has developed services for insurance and transportation companies that consolidate data and business activities into a single dashboard. One of its transportation clients is Amazon, who is using the company's managed services and dashboards to onboard independent contractors. EOX Vantage also works with a number of carriers to manage the driver qualifications and onboarding process for safety and compliance.
The company is currently working on developing a new reporting bundle for transportation companies that will have a single dashboard for their business metrics. The bundle will have capabilities equal to CRM systems like Netsuite and Salesforce, said George Thellman, customer success manager of EOX Vantage.
The TeamedUp 2020 suite will be available through Dec. 31, 2020, without regular fees for companies with up to 100 users. The cost is $250 per month for 101 to 500 users and $250 month for hosting the data up to 5 GB. The cost for above 500 users is $3 per user per month.
"Since working at home began, we're hearing from clients who say the TeamedUp 2020 tools have minimized disruption and allowed them to carry on," Achar added. "We're glad to be able to help and we hope others take advantage of the platform."
Organizations interested in getting TeamedUp 2020 for free should contact EOX Vantage here.