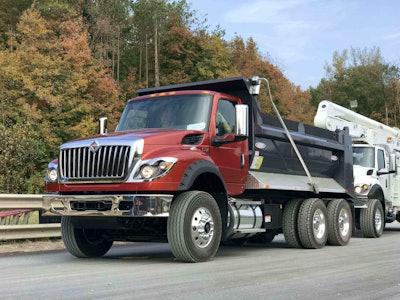 Trucking news and briefs for Monday, April 27, 2020:
DOT, FEMA to make masks available to truck drivers
The Federal Emergency Management Agency, Department of Homeland Security and Department of Transportation will soon distribute approximately 800,000 masks for truck drivers for protection during the COVID-19 pandemic, an official with the Owner-Operator Independent Drivers Association confirmed Friday.
Doug Morris, OOIDA director of safety and security, said he received word that the agencies will distribute masks to drivers at six rest stops across the country with the possibility of more locations to be added. Morris said the dates for distribution are still unknown as of Friday afternoon, but he said he expects it to be this week. The six locations are:
Georgia: I-75 southbound at mile marker 179 just north of Macon
Illinois: I-80/I-294 eastbound at mile marker 1 in Chicago
Nebraska: I-80 westbound at mile marker 431 near Omaha
Texas: I-35 northbound at mile marker 362A south of Hillsboro
California: I-5 northbound in Los Angeles
New York: I-87 northbound at mile marker 33, just north of New York City
Morris said the mask distribution comes after a letter sent by OOIDA earlier this month to the White House asking for improved access to personal protective equipment, coronavirus testing and more.
"We brought up this need for truckers to FEMA, DHS and DOT several times in meetings, but there always ended up being a brick wall," Morris said. "We got so frustrated that we sent a letter to the president. After that letter was sent, the White House reached out to us to see what the problem was and what we needed."
A FEMA spokesperson on Friday afternoon said the agency will be "distributing cloth face coverings to critical infrastructure and economic sectors to enable the nation to continue our response and begin to recover from the COVID 19 crisis," adding that the program "is related to a long standing plan to assist American citizens after a major disaster where face coverings would be useful for a large population."
Nearly 27,000 International trucks recalled for fuel heater issue
Navistar has recalled approximately 27,421 trucks and buses with Cummins B6.7 diesel engines with a fuel module option number FS90301 or FS90453, according to National Highway Traffic Safety Administration documents. The recall includes approximately 26,835 International DuraStar, WorkStar, HV and MV truck models. The remaining 586 vehicles in the recall are buses.
Affected truck models include model year 2017-2020 DuraStar medium-duty trucks, model year 2017-2020 WorkStar severe duty trucks, model year 2018-2021 HV severe duty trucks and model year 2018-2021 MV medium duty trucks.
In the affected trucks, the electric fuel heater within the fuel module may overheat and cause plastic in the fuel heater to melt and potentially spark a fire. It could also lead to engine stalling.
A remedy for the recall is still under development. Cummins will notify affected Navistar customers. Owners can contact Cummins customer service at 1-800-286-6467. NHTSA's recall number is 20V-219.
Fleet's split sleeper berth waiver extended
The Federal Motor Carrier Safety Administration announced this week it has renewed a waiver for McKee Foods, allowing its team drivers to split their sleeper berth time into two periods totaling 10 hours.
The agency first granted the waiver in 2015. Under terms of the waiver, team drivers for the private fleet of the maker of Little Debbie and other snack foods have been able to split their 10-hour sleeper berth time into two periods, as long as neither period is shorter than three hours.
The waiver is now effective through April 20, 2025.
Yokohama reopens Mississippi tire plant
Yokohama last week announced its plans to reopen its West Point, Mississippi, tire manufacturing plant on Monday, April 27. The plant has been closed since March 28 due to the COVID-19 pandemic.
The company is implementing new safety procedures for workers at the plant based on guidelines from the Centers for Disease Control and Prevention.