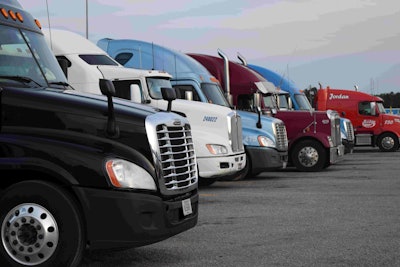 This is the first of a two-part series that looks at the maintenance challenges presented by parking a truck for a long period of time. Part two will cover batteries, electrical and brakes.
With rates and freight volumes both currently sitting at historically low levels, nearly 30% of respondents to a CCJ survey that measures the coronavirus' impact on motor carriers said they have reduced driver count.
With no one sitting behind their steering wheels, many fleets are parking some units until trucking conditions improve. But there's more to mothballing a unit than simply pulling the air brake and turning off the ignition if the tractor is to return to service in mechanically sound condition.
As long as the cooling system is full and has been well-maintained, it should be fine for long-term storage, said Jami Melani, field engineering/heavy-duty technical services manager for BP/Castrol. However, engine oil will continue to degrade even if the engine isn't running.
"Oxidation continues, water may continue to condense inside the engine, and so on," he said.
Oil also will settle to the lowest point in the crankcase and rob the engine's upper parts of lubrication.
"When the equipment is running, it's splashing the oil around and coating the internal surfaces," said Stede Granger, technical services manager for Shell Lubricants. "When it's parked, it's going to find the lowest point and drip off all the upper surfaces. When you run it, you get new oil up there — in the liners and crosshatches, in your rings and all that. It does a lot of good to run that engine."
A lot of space in the crankcase is occupied by air, which can lead to condensation. Depending on how long the engine sits idle, oil that doesn't drip off surfaces will evaporate off them, "and if it sits in there long enough, you can get rust," Melani said.
Granger advised starting trucks that aren't being operated on a regular basis at least once per month and bringing them up to operating temperature. "That would splash around the oil and charge the batteries," he said.
Bringing the thermostat to operating temperature helps vaporize any moisture in the crankcase. Granger said engines always have some combustion gas blow past the rings, but when the engine gets up to operating temperature, that's not a problem.
"When the engine's cold, it condenses," he said. "If you get too much of that accumulating, you want to get that out of the oil."
While the truck is running, put it in gear, said Homer Hogg, director of technical service for TravelCenters of America.
"Move them forward and in reverse far enough to allow seals in the drivetrain to flex and get exposed to some lubrication, along with internal gearbox and hub components," he said. "I think the most practical approach is to exercise the vehicle similar to how used trucks are exercised while sitting on the yard. Many fleets already have a program for vehicles that are taken out of service and may not sell or be traded in a timely manner."
Cold oil changes rarely are advised, but Melani said if a truck sits unused for several months and is exposed to swings in ambient air temperature, "there's no question about it — I would try and get that oil out of there and spin a new filter on."
If it appears obvious that a truck could be parked for a significant number of months, a best practice would be to change the oil and filter and run the engine for a short period of time to allow the oil to circulate to all lubricated parts prior to storage, said Shawn Whitacre, senior staff engineer for Chevron Lubricants.
"This assures that clean oil, free of any contaminants, is in the system during the period of inoperation," he said. "This also provides assurance that when the vehicle returns to service, it is ready to go."
Jon Salter, director of shop operations for Pilot Flying J Truck Care, said trucks should be stored in a clean and dry environment and left in neutral with their air tanks drained. Hogg said trucks must not be parked in a lowland area "where excessive rain can allow water levels to extend above gearbox vents and taillights and sensitive electronic components."
Both Hogg and Salter suggested covering the truck's exhaust stack or covering the truck with a tarp to prevent rain from entering the exhaust and aftertreatment systems.
There are two schools of thought when it comes to storing fuel in the truck's tanks: fill them as full as possible to limit the amount of air in the tank, or drain them to lessen the amount of fuel that potentially could become contaminated.
Salter said filling the tanks decreases the amount of open space and helps prevent moisture buildup in the fuel from condensation, and he recommended using a fuel additive "like algae killer to the tanks and a cleaner for the filters."
Hogg's preferred method is to drain the tanks to the extent possible, "as I have seen very little success preventing unwanted microorganisms in tanks from [filling them up]," he said. "I prefer to get rid of the bad fuel and start over. Of course, this decision will be greatly influenced by the amount of time you anticipate your vehicles being idle."
Salter said diesel fuel can be stored between six and 12 months on average and should be kept below 70 degrees.
"If a truck is being parked past 12 months, even under the best conditions, it needs to be treated with fuel stabilizers and biocides," he said. "This is true for diesel fuel, not ethanol blends or biodiesel blends."
Parking a truck for an extended period also presents an opportune time to make any needed repairs, but Salter said when it's time to place the unit back into service, it's still important to give the truck a full preventive maintenance checkup.
"In addition, make sure to change the fuel filters to remove any contaminants that may have been sitting in the filters prior to or during storage periods," he said.
Salter also recommended performing a mid-trip inspection to include checking the tires and electrical system and ensuring there are no active fault codes.
Darryl Purificati, OEM technical liaison for Petro-Canada Lubricants, said since the conditions under which a vehicle is "put up" can vary greatly among fleets, "it's always important to follow the OEM guidelines and also to consult with a lubricant technical services adviser who can provide more expert advice for your fleet's specific circumstances."