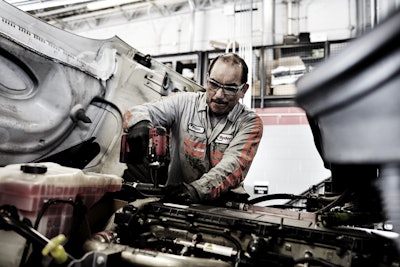 The Commercial Vehicle Solutions Network (CVSN) Right to Repair Coalition said Tuesday that the group had compiled enough signatures for an addendum to be included on the Massachusetts ballot in November that would require vehicle manufacturers to provide all repair providers and fleets with universal access to telematics information.
Approved in 2013, the current Right to Repair law requires auto and truck manufacturers to make available the same diagnostics and repair information to consumers and independent shops that once was exclusive to franchised dealerships. But the law excludes telematics.
Marc Karon, CVSN's Right to Repair chairman, said the new legislation is important because an increasing number of manufacturers are eliminating diagnostics access directly from the vehicle diagnostics port and now are moving that information over-the-air.
"In the near future, the only access to vehicle diagnostics will be through telematics communication," said Karon, president for West Palm Beach, Florida-based Total Truck Parts.
Karon said the addendum's goal is to allow vehicle owners access to any data that is transmitted from the vehicle "and direct them to whomever they want to repair their vehicles."
"If the dealers or the OE need information from telematics, then it needs to be available to the vehicle owner and independent service shop," he said.
The original Right to Repair legislation and subsequent law was initiated in Massachusetts, and Jeff Volpe, CVSN marketing director, said that if the addendum passes this fall, "it should have a domino effect, and legislation should start to pass among the other states."
In early 2014, the Alliance of Automobile Manufacturers and the Association of Global Automakers agreed to voluntarily uphold Massachusetts' Right to Repair Act across the country, unlocking – for a fee – access to manufacturers' proprietary service websites and repair information.
Karon said Right to Repair and access to information has been a battle raging between dealers, the aftermarket and OEMs for several years, but he believes getting the addendum passed in Massachusetts is the best first step to reaching a widespread agreement.
"It worked in 2013 on the original Right to Repair Act, and I believe that it will happen again," he said. "Other states will surely follow if necessary. Also, it is difficult to imagine a vehicle manufacturer that would have to design different vehicles for different states."