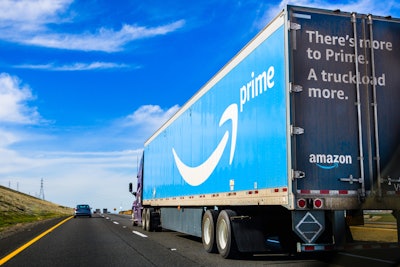 Amazon this month rolled out its freight brokerage operation nationwide, a strategic move that not only brings the company into competition with other large digital brokerages like Uber Freight and Convoy, but that also is intended to give the company leverage over its retailer and shipper rivals during peak shipping seasons.
The company confirmed to CCJ via email that it has expanded its brokerage arm to the entire lower 48 states, coming roughly 18 months after the online retail giant launched a small pilot program of its brokerage in five Northeast states. The company has opened up its freight.amazon.com portal to more shippers and is trying to lock in capacity from small- and mid-sized fleets.
Unlike Uber Freight and Convoy, however, Amazon isn't just selling service as a freight-matcher that connects shippers to carriers. Rather, the company's broader goal is to build a nationwide network of trucking capacity that it can use to its own advantage as a mega-shipper itself.
"The market control narrative is still in place," said Carson Krieg, co-founder of Convey, a tech firm that helps retailers with logistics and supply chain processes. Amazon has recently pivoted its own logistics and shipping strategy to focus more on longer haul, middle-mile segments rather than focusing on the last-mile, parcel delivery segment, he said.
"They want to own that market," said Krieg. "They want to gather up capacity so they can dictate middle-mile rates." Building a network large enough to be able to dictate rates as a brokerage operator not only will help Amazon control its own shipping costs, but it could give the company the ability to squeeze its retail competitors on costs and delivery timing. Given the volume of its own shipping needs, Amazon doesn't need to turn a profit, necessarily, in the brokerage operation to make it valuable to the company as a whole.
"With their built-in book of business," said Krieg, from their own freight and their third-party partners, Amazon is positioned to do more than "just take a cut of matching a shipper and a carrier."
Amazon intends to be more transparent with shippers and carriers in its pricing, said Krieg, who contends that Amazon can offer cheaper rates to shippers while maintaining market-dictated rates (or better) for carriers — a method that would help the company lock in parties on both sides of the freight transaction.
That strategy could undercut traditional freight brokers, though Amazon last May in a statement told CCJ that any price undercutting is not part of its strategy. "Analysis suggesting dramatic undercutting of pricing is false," the company said. "We work with many line-haul service providers in our transportation network and have long utilized them to carry loads for Amazon. This service [is] intended to better utilize our freight network."
Likewise, market conditions and relationships will still likely dictate much of the brokerage segment, suggests Geoff Turner, CEO of Choptank, a 400-person brokerage based in Preston, Maryland. For instance, when Amazon experiences a surge in shipping demand during holiday seasons and other peak periods, other shippers usually do, too. "If a shipper can't access [Amazon's] capacity, obviously they're going to go source it somewhere else," he said.
Brokers forge relationships with their shippers "over many years and many different cycles in the freight economy," he said. "If a new player comes in and says, 'hey, we can do it for cheaper,' it can raise a red flag. Service is so important, especially for larger shippers."
And like other tech firms, Amazon likely can only operate its brokerage at a loss as a near-term strategy, said Turner, especially given that supply and demand (truck capacity and freight movement) dictate pricing for trucking services. "At some point it has to revert to some sort of profitability or it just doesn't make sense."