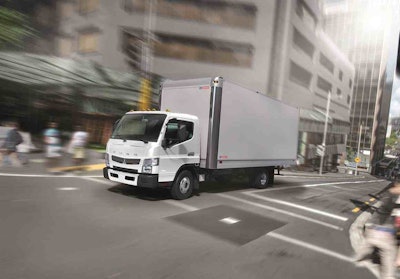 Mitsubishi Fuso Truck of America, Inc. (MFTA) announced Wednesday that it plans to discontinue new truck sales in the United States and Canada and hone its attention to a service-focused operation in the North American market.
MFTA president and CEO Justin Palmer said the company plans to re-align its organizational focus towards service operations in the coming months, "and we remain committed in supporting a parts and service network for many years to come."
Fuso said its customers in the U.S. and Canada will continue to be supported through an authorized Fuso service network for warranty repairs, maintenance services and replacement parts until 2028, and MFTA will continue to support its eCanter all-electric trucks that are in operation in the U.S. under the terms of each customer's respective lease. The 2028 timeframe will allow Fuso to "honor warranties on vehicles that are currently operating, as well as new trucks that will be sold in the coming months," the company said.
"The intention is to have present Fuso dealerships in the United States and Canada remain operational," the company said in an emailed statement, "and for new vehicle sales locations to have the option of continuing to retail available truck stock for a period of time."
The company currently plans to maintain its Logan Township, N.J. headquarters, along with its parts distribution and technical training centers, and will continue to employ "a majority of its employees in the near term."