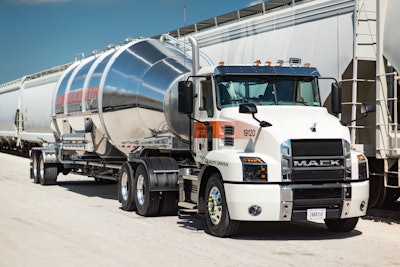 Since the start of 2019, Bulkmatic, a dry bulk transportation provider with a service network spanning the United States and Mexico, has been spec'ing new tractor purchases with the Bendix Wingman Fusion safety system.
To date, less than one-third of the fleet is equipped, yet within the next three months, all 513 of its tractors will be warning drivers of unsafe following distances and other risky behaviors.
That's because in the meantime, Bulkmatic also has been testing the Lytx DriveCam SF300 Event Recorders and driver safety program. The technology gives drivers real-time audible alerts by identifying risks using machine vision and artificial intelligence (MV+AI). The system also records safety-critical events.
This week, Bulkmatic began installing the Lytx platform ahead of getting the fleet outfitted with Wingman Fusion, which uses a camera, radar and integrated vehicle controls to intervene, if needed, to prevent and mitigate collisions.
Bulkmatic's goal is to install the Lytx technology in the entire fleet by Oct. 1, said Terry McAdams, director of safety for the Griffith, Indiana-based carrier.
Bulkmatic is replacing a video-based driver safety system it has been using from SmartDrive since 2014. The system has inward- and forward-facing cameras. As configured, it captures event video and data for unsafe following distances triggered by the Wingman Fusion system, but management has to review clips with drivers when they return to terminal locations, McAdams said.
One of the standouts from testing Lytx side-by-side with the existing technology is that Lytx gives drivers a clear, audible alert if they are following too close, and its MV+AI technology also detects and alerts for distracted driving caused by cell phone use, smoking, eating, drinking and seatbelt use.
Drivers had to get used to the alerts, but "what that has done is raised awareness," McAdams said, and more importantly, it helps drivers self-coach and improve without management intervention.
"When you look at it that way, it is not a nuisance," he said. "Most drivers have responded in a positive way."
Another factor in the decision was Lytx's extended recording features. Users can retrieve footage from vehicles up to the previous 100 hours of recording. McAdams said the extending recording feature is helpful if a Bulkmatic driver has a low-impact accident that does not trigger an event clip for review, or a motorist calls later with a complaint.
The Lytx cloud-based platform was easier to navigate to find and retrieve footage quickly, he said.
"It was really not an easy decision," he said of the decision to switch providers, "but we felt like we needed to do something now."
McAdams looks forward to having all locations and tractors being on the same platform so the company will be measuring driver safety performance in a uniform manner. The next step will be testing sideview cameras with the Lytx platform.
Lytx reported that in 2019, 25% of its new business came from fleets switching from other video telematics providers. The technology currently is deployed in hundreds of thousands of vehicles and is capturing more than 100,000 risky events each day, and the data is being used to train and improve Lytx's algorithms further.
At present, its system is able to deliver greater than 95% accuracy across 60 risky driving behaviors, the company said.