Trucking news and briefs for Wednesday, July 22, 2020:
Autocar adding safety features to severe-duty cabovers
Autocar announced Tuesday it is adding six new advanced safety features to its Autocar ACX severe-duty cabover vehicles.
The new features include:
Electronic Stability Control that intervenes when the truck is understeering or oversteering to maintain stability.
Rollover Stability Control that intervenes when the vehicle is at risk of a driver-induced rollover event.
Advanced Emergency Braking System that detects impending collisions and actively engages emergency brakes.
Forward Collision Warning that visibly and audibly warns drivers of impending collisions.
Stationary Lane Departure Warning that illuminates a steady light on the A-pillar with an audible warning.
Blind Spot Detection with a flashing light on the A-pillar to warn the driver of a vehicle in his or her blind spot.
The new features are being put into production immediately.
Freightliner updates Smart Source app
Freightliner has added a new design, personalized notification options and enhanced product support in the latest update to its Smart Source app.
The app provides drivers with up-to-date news, training videos and support information from Freightliner. The new features help drivers more quickly find the information they need to operate their truck.
In addition to the design update, other enhancements include:
Expanded library of VIN-based training videos, which allows drivers to enter the last six digits of their VIN into the app to access videos for their specific truck.
Links to online driver and maintenance manuals by model
Quick access to the Freightliner Roadside Assistance Program
Optional push notifications to instantly alert users when new training videos, news or product information is added.
Pilot transitioning to new CEO in 2021
Pilot Company announced Tuesday that Jimmy Haslam will transition out of his role as CEO of the company and become the chairman of the board on Jan. 1, 2021. The company will name its current chief strategy officer, Shameek Konar, as CEO at that time. Pilot founder James Haslam, Jimmy's dad, will become chairman emeritus.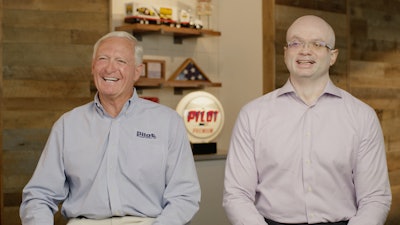 Konar first joined Pilot in 2017 and helped launch the Pilot Energy business.
As part of the restructuring, Pilot President Ken Parent will become senior advisor to the CEO and the chairman, providing guidance on strategy and key priorities for the company.
In 2021 and beyond, the Haslam family will continue to be involved. In addition to James and Jimmy's roles, Whitney Haslam Johnson, Jimmy's daughter, will continue to serve as chief experience officer and member of the board, and Bill Haslam, Jimmy's brother and former governor of Tennessee, will serve on the board.