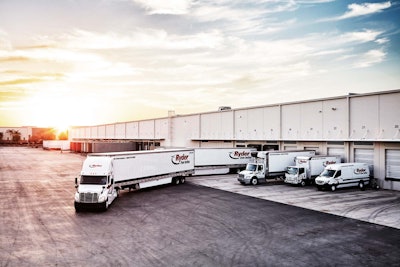 Ryder (CCJ Top 250, No. 14), one of the nation's largest dedicated transportation providers, recently started using the Trucker Tools predictive freight matching and shipment tracking platform.
The brokerage division of Miami, Fla.-based Ryder was originally created to fill backhauls for the dedicated fleets of shipper customers. More recently the division expanded to help its customers solve additional problems by sourcing highly qualified capacity.
This year, Ryder's brokerage is on track to arrange transportation for between 75,000 and 80,000 loads, said Dave Belter, vice president and general manager of global transportation management solutions for Ryder.
About three months ago, Ryder chose to use Trucker Tools to better connect with small fleets and owner-operators. The mobile app is already used by more than 140,000 small carriers that manage 10 trucks or less. This segment represents some 90 percent of truckload carriers in the market.
Ryder was already connected with larger carriers for tendering loads and tracking shipments by using electronic data interchange (EDI) and integration with third-party fleet telematics systems.
"We liked the idea that [Trucker Tools] gave us access to some of our smaller carriers that we would have to engage with anyway but in a less productive way," he said, and noted that Ryder is also able to gain access to a broader market of carriers.
When loads are assigned to carriers, the Trucker Tools platform automatically captures location data from the drivers' smartphones and updates shipment tracking and estimated time of arrival (ETA) information every five minutes in Ryder's transportation management system (TMS).
The platform also digitizes the freight matching process with predictive technology that considers a variety of real-time factors and historical data. These factors include the carrier's profile, current or soon-to-arrive location, proximity, lane and load preferences.
The application considers where a carrier is going next, and uses that intelligence to identify and rank future available reloads. With this capability Ryder's brokers are setting up multiple leg moves for carriers.
"We have had very good success with the freight matching capability," Belter said. "We are finding that we are matching freight sometimes in minutes. This is not always the case, but in the past we were certainly less productive."
Belter said Ryder has not yet "completely implemented [Trucker Tools] to perfection," but one of the early successes has come from giving carriers the ability to instantly book freight using a Book-It-Now feature in the app.
The Book-It-Now feature shows carriers and owner-operators real-time available loads with pricing and enables them to accept and confirm in one click. Ryder is making the feature available to carriers that it has a strong relationship with as a way to "take some friction out of the process," Belter said.
The Book-It-Now feature has been helpful for Ryder to give shipper customers access to express quotes with competitive pricing and reliable services from qualified LTL, truckload and expedited for-hire carriers, as well as a nationwide network of Ryder fleets.
"We are excited to welcome Ryder's freight brokerage operation to our platform," said Prasad Gollapalli, Trucker Tools' founder and chief executive. "Especially in these times, brokers need to explore every avenue to reduce costs, every opportunity to streamline and optimize how they do business and help their carriers be more productive."