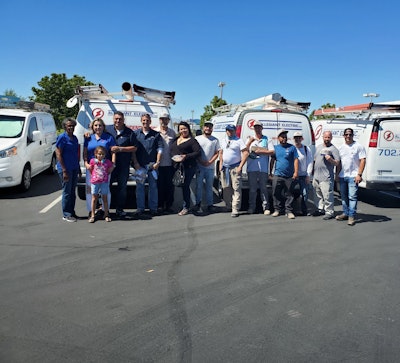 As soon as the electronic logging device mandate was in the rearview mirror, the COVID-19 crisis emerged and created new challenges for fleets to get more from their investments in mobile hardware, software and Internet of Things (IoT) technology.
The following news items from technology suppliers in this space during the past week offer four examples of how companies are navigating the road ahead.
Mobile resource management
A customer of Verizon Connect, Allegiant Electric, based in southern Nevada, has seen its revenue increase by 581% since early 2017 when it implemented the technology platform.
By using Verizon Connect's Reveal mobile resource management software platform, Allegiant has increased the number of jobs it completes per day from three to more than 30 and has grown its workforce from three to 15.
Allegiant provides full-service electric contracting, solar installation and maintenance and repair for residential and commercial customers.
The live map and scheduling functions of Reveal help users locate vehicles in the field to schedule jobs according to the location of workers. Reveal's notes functionality also gives workers detailed job instructions, and during COVID-19, the company has used it to provide additional precautions to keep employees and customers safe.
"We knew we needed something to help manage our scheduling, but we never imagined how much the Reveal platform would transform our business," said Andrea Vigil, co-owner and founder for Allegiant Electric.
Device health monitoring
ELD, fleet management and safety technology provider Samsara has new Device Health Reports in the user dashboard of its cloud-based platform. The report indicates any issues with the camera and gateway IoT devices due to user error or changes in the operating environment due to installation, devices becoming unplugged or damage.
Fleet managers are able to tell if a device is having issues before a vehicle or fleet goes offline to prevent the loss of footage or diagnostics information.
Each report comes with an aggregated health score at the top and provides details on how many devices are healthy, require attention or need to be installed.
The Camera Health Report provides context to why a camera may be offline, including when the camera and the Vehicle Gateway (VG) were both last connected.
The Gateway Health Report gives a single view of how vehicle devices, and powered or unpowered assets, are operating throughout a fleet. In addition to recommended actions, the report highlights the last known location of the vehicle, when the device was last connected, cell connectivity, and vehicle and gateway battery.
Remote check-ins for maintenance
Penske Truck Leasing has added a remote service check-in to its Penske Driver mobile app for drivers to remotely check-in their vehicles for scheduled preventive maintenance or repairs.
"This new addition to the Penske Driver app is part of our ongoing efforts to help keep customers and their drivers connected, safe and informed," said Sherry Sanger, executive vice president of marketing for Penske Transportation Solutions.
Penske also is positioning associates outside many locations to greet and direct customers to designated parking or pick-up areas.
The free Penske Driver app is for its full-service truck leasing, contract maintenance and commercial truck rental customers. The app also enables truck drivers to:
Log hours of service in Penske rental vehicles and comply with the ELD mandate.
Locate Penske service, rental and fuel locations, as well as other locations such as truck stops, compressed natural gas (CNG) stations and public scales.
Access a vehicle's recent service history.
Digitally submit fuel receipts.
Submit 24/7 roadside assistance requests.
Sharing unused trailers
Motor carriers can make money from underused trailer assets due to the pandemic and use new technology integrations to streamline administration and billing.
vHub, a collaborative trailer repositioning and sharing marketplace, has new trailer telematics integrations that give its users exact GPS-based locations of units.
The new integrations are with Anytrek's TrackLight tail lamp GPS and 4W Telematics' trailer-tracking system.
With vHub's API technology, the trailer-tracking systems give an exact position of assets to make it easier for drivers when picking up a unit. The renter's traveled distance also is automatically measured and billed.
The combined technologies also give utilization information to trailer owners, so that they are aware of how their units are being used and can locate unused assets to make available on vHub.
The Anytrek TrackLight device consists of a GPS module inside a 4-inch round or 6-inch oval tail light that connects to an industry-standard wiring harness in five minutes. The device transmits trailer location over the 4G cellular network to Anytrek's portal, which is integrated with the vHub platform.
Solution 4W offers trailer-tracking systems that allow fleets to streamline and automate asset management. The real-time technology monitors equipment location by tracking two GPS points per second. The devices can be powered by the trailer's electrical system and by using a solar panel option from the company.
The vHub community has over 20,000 registered trailers in the United States and Canada. The company's users are able to reduce the cost of repositioning assets and turn unused trailers into revenue-generating equipment by making them available to short-term users through a secure digital platform.