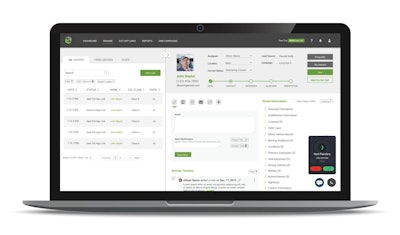 Randall-Reilly, parent company of CCJ, has launched Stratas, an applicant tracking system designed for driver recruiting. Pulling together Randall-Reilly's industry experience and relationships, Stratas is an intuitive, user-friendly platform, designed with recruiters in mind.
"We saw a real opportunity to build something more strategic and more aligned to the recruiting lifecycle," said Scott Miller, executive vice president and general manager of Randall-Reilly's recruiting division.
The platform features an integrated phone system, a robust client support system, copious integrations and custom reporting.
"Along with the usual lead-in, lead-out functionality you expect from an ATS, we've designed Stratas to incorporate seamlessly into the recruiting workflow," said Scott Evanson, head of product development at Randall-Reilly. "We want it to be easy to engage drivers through phone calls, emails, and sms without ever leaving the platform. Also it's important to see where your hires are coming from, along with analytics that show what you should do next to hire drivers more effectively."
Stratas is now available to all fleets and product enhancements will continue throughout the year.