Trucking news and briefs for Wednesday, Aug. 12, 2020: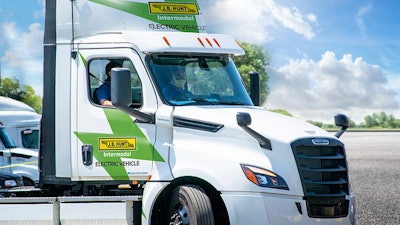 J.B. Hunt Intermodal begins electric truck testing
J.B. Hunt (No. 3 on the CCJ Top 250) this week began testing an all-electric Class 8 truck in its intermodal division. The first delivery, a 120-mile haul for Walmart, started a three-month testing phase in which the company will integrate the Freightliner eCascadia with its day-to-day operations in Los Angeles.
The company says the eCascadia is expected to have a driving range of 250 miles and can recharge as much as 80% in 90 minutes.
Charging stations have been installed at J.B. Hunt's Los Angeles terminal, and drivers are being trained on an ongoing basis to operate the vehicle. The eCascadia that J.B. Hunt is testing is part of the Freightliner Customer Experience Fleet, an initiative to provide DTNA customers with first-hand experience implementing electric vehicles within their operations.
Moving company association to join ATA as new conference
The American Moving and Storage Association (AMSA), which represents the moving industry, is pursuing a move to join the American Trucking Associations as the Moving & Storage Conference.
The new group within ATA will serve as the advocacy arm for moving and storage companies. A Moving & Storage Council will also be created as the training and education arm.
"The move to join the ATA federation will benefit AMSA's small and independent members as well as the large van lines," AMSA Board of Directors Chairman Bill Paxton said. "Both ATA and AMSA have been strong advocates of highway safety along with representing their members before Congress and regulatory agencies. Our combined efforts will certainly strengthen our reach and impact."
AMSA leadership has formed a transition team that will work closely with ATA, once final approval has been granted by the ATA board of directors, as well as by AMSA's governing body.
Penske Truck Leasing opens sixth EV charging station
Penske Truck Leasing announced this week it has opened its sixth heavy-duty electric vehicle charging station in Southern California. The latest station is in Ontario, California, and is equipped with an innovative battery energy storage system that is designed to offset demand on the electricity grid during peak charging times.
"We continue to expand our heavy-duty electric vehicle charging network, while also challenging ourselves to test new solutions like the battery storage component," said Drew Cullen, senior vice president of fuels and facility services at Penske Transportation Solutions. "We are committed to being on the leading edge of sustainability and technology advancements in transportation and we look forward to putting our new charging facility to work for our customers and the industry."
The Ontario charging station has six charging positions. Utilizing 50 kW to 150 kW chargers, this charging infrastructure allows Penske to power an all-electric class 8 tractor from zero to 100% charge in less than half a shift, the company says.
Trucking company owner, employee indicted for CARES Act loan fraud
Hubert Ivan Ugarte, the owner of Utah-based Frisbu Trucking and several other trucking companies, and Lisa Bradshaw Rowberry, a Frisbu employee, were indicted for conspiracy, removal of property to prevent seizure, loan application fraud, wire fraud and money laundering.
According to the Department of Transportation Office of Inspector General, the charges are related to a loan they obtained under the Payment Protection Program (PPP), a provision of the COVID-19 relief CARES Act.
Ugarte was previously indicted in October 2019 on wire fraud and money laundering charges. Relative to that indictment, a court authorized the seizure of 41 tractor-trailers used by Ugarte, one of which was involved in an accident and resulted in an insurance claim check being issued.
According to the most recent indictment, Rowberry deposited the insurance claim check into a bank account in the name of Frisbu Trucking. The company allegedly used the funds from the claim to cover its payroll. The indictment alleges the insurance proceeds were subject to forfeiture and that the deposit was made to prevent or impair the federal government's authority to seize the money.
Additionally, in April and May 2020, the pair allegedly made false statements in a load application in the PPP provision of the CARES Act. OIG says they allegedly falsely conveyed that the business owner was not under indictment and did not reveal that he had entered into a felony drug possession pretrial diversion agreement. The indictment also charged the pair with wire fraud and money laundering related to a $210,000 payment made in relation to the PPP loan.