Trucking news and briefs for Tuesday, Aug. 11, 2020: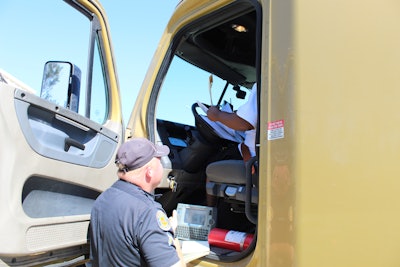 Roadcheck inspection spree rescheduled for next month
Trucking companies have just one month to prepare for the year's largest inspection blitz, as the Commercial Vehicle Safety Alliance announced Monday its annual International Roadcheck is now scheduled for Sept. 9-11.
The blitz was first scheduled for May 5-7, but it was postponed due to the COVID-19 pandemic. Roadcheck is now being held just two weeks after CVSA's brake-focused Brake Safety Week inspection spree, which is being held Aug. 23-29.
"Although the coronavirus pandemic, understandably, shifted priorities and personnel during the spring, the commercial motor vehicle law enforcement community has reasserted its focus on the roadside inspection program and enforcement duties," said CVSA President Sgt. John Samis with the Delaware State Police. "Jurisdictions are nearly back to their pre-pandemic capacity with a strengthened concentration on identifying and removing unfit vehicles and drivers from our roadways using federal safety standards and the out-of-service criteria."
The annual 72-hour enforcement spree will still have a special emphasis on the driver requirements component of inspections, as was previously planned for Roadcheck when it was scheduled to take place in May. According to the Federal Motor Carrier Safety Administration, nearly 1 million driver violations were discovered in 2019's approximately 3.36 million commercial vehicle inspections, with nearly 200,000 of those being out-of-service violations.
For the driver portion of an inspection, inspectors will collect and verify the driver's documents, identify the motor carrier, examine the driver's license, check record of duty status and review periodic inspection reports. Inspectors will also check the Medical Examiner's Certificate, Skill Performance Evaluation Certificate and the driver's daily vehicle inspection report. Inspectors will also be looking for seat belt usage, illness, fatigue and apparent alcohol or drug possession or impairment. A full list of driver requirements can be found here.
While the focus of the inspections will be on driver qualifications, inspectors will still mostly be conducting full 37-point North American Standard Level I inspections during the three-day blitz.
During the vehicle portion of the inspection, law enforcement will be checking brake systems, cargo securement, driveline components, exhaust systems, frames, fuel systems, lights, steering, suspension, tires and more.
If no critical violations are found, inspectors will apply a CVSA decal to the truck, indicating it has passed a decal-eligible inspection conducted by a CVSA-certified inspector.
Navistar extends Cummins partnership, announces leadership changes
Navistar and Cummins announced Monday the two companies have extended their long-term agreement through the next two emission cycles, with Cummins being selected as Navistar's preferred supplier of medium- and heavy-duty engines for International Trucks in the U.S. and Canada.
With Cummins' launch of the 2021 greenhouse gas complaint X15 Efficiency Series engine this year, International Truck customers can receive the highly fuel efficient 15-liter engine.
The Cummins B6.7 and L9 engines will continue to power the International MV and HV Series trucks.
Navistar also announced several new appointments to its leadership team.
Friedrich Baumann has accepted the role of president, Sales, Marketing and Aftersales. Baumann will be responsible for the complete commercial process for customers and dealers and will continue to serve as liaison with Navistar's alliance partner, TRATON Group. He will work closely with Michael Cancelliere, who has elected to retire after a successful 40-year career with Navistar, to ensure a smooth transition.
Phil Christman has additional responsibilities in his role of president, Operations. He will lead Navistar's global operations, including the Brazil, Mexico and Global Export businesses. This is in addition to his oversight of procurement, product development, manufacturing and supply chain.
Robert Walsh has accepted the position of vice president, Emerging Technologies, Strategy and Planning. He will manage the recently announced partnership with TuSimple and will oversee the development of Navistar's newest business unit, NEXT eMobility Solutions. Walsh will also champion the company's Navistar 4.0 strategy through his leadership of the Strategy and Planning group. Walsh returns to Navistar, where he previously served for 15 years in several roles, including president, Navistar Defense.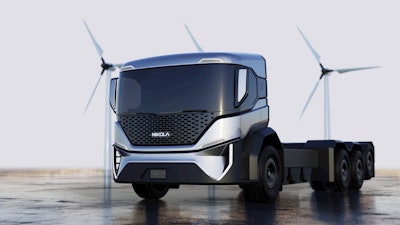 Nikola receives order of at least 2,500 battery-electric refuse trucks
Electric truck maker Nikola announced Monday it received a minimum order of 2,500 electrified refuse trucks from Republic Services, expandable up to 5,000 trucks.
The order is to begin full production deliveries in 2023 with on-road testing likely to begin in early 2022, Nikola says.
"This is a game changer," said Nikola CEO Mark Russell. "Refuse truck customers have always ordered chassis from truck OEMs and bodies from other suppliers. Nikola has fully integrated the chassis and body, covering both with a single factory warranty. Trucks will include both automated side loaders and front-end loaders — all of which will be zero-emission."
Nikola adds that the refuse trucks are expected to carry up to 720kWh of energy storage. The refuse trucks will use the Nikola Tre powertrain, which will be limited to 1,000 horsepower and is expected to outperform current diesel and natural gas competitors. The company says the new platform can give refuse trucks nearly three-times the horsepower of natural gas and diesel options, giving operators the ability to go up hills with full loads without issue.
Republic Services is the second largest recycling and solid waste provider in the U.S.