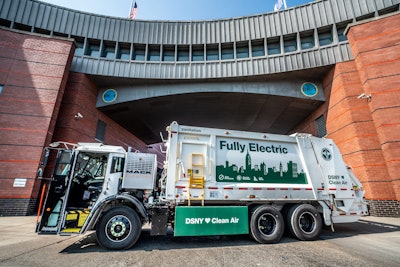 Trucking news and briefs for Thursday, Sept. 24, 2020:
ATA's move for injunction on Rhode Island tolls denied
The American Trucking Associations was denied its request for an injunction to halt the collection of trucks-only tolls in Rhode Island as a lawsuit challenging those tolls proceeds through the federal courts.
ATA, as previously reported, filed for the injunction in March. The decision, according to the Providence Journal, was handed down earlier this month. The state of Rhode Island's RhodeWorks trucks-only tolls were implemented in 2018, and given denial of the injunction, the state will continue to collect them.
The suit is proceeding through the courts as the state pulls in millions from 11 sites, the Journal reported. The 12th, on Route 195 and the Washington Bridge, is currently being tested.
Mack delivers first LR Electric model for testing
Mack Trucks delivered its first Mack LR Electric to the New York Department of Sanitation (DSNY) for an in-service trial of the new model.
The truck will be based in DSNY's Brooklyn North 1 garage and conduct an in-service trial on local collection routes, evaluating operating range, payload capacity, regenerative braking and overall functionality of the electric refuse truck in their operations.
Mack announced earlier this month its plans to commercialize the LR Electric model in 2021, enabling customers to collect refuse in a more environmentally friendly way.
DSNY's Mack LR Electric features two 167-kW motors, offering a combined 536 peak horsepower and 4,051 lb.-ft. of torque available from zero RPM. It's equipped with a two-speed Mack Powershift transmission and Mack proprietary S522R 52,000-lb. rear axles. The truck also features four NMC lithium-ion batteries that are charged via a 150kW, SAE J1772-compliant charging system. All accessories on the Mack LR Electric model, including the hydraulic system for the Heil Durapack 5000 refuse body, are electrically driven through 12V, 24V and 600V circuits.
DSNY is the world's largest sanitation department, with approximately 12,000 tons of refuse and recyclables collected each day by more than 6,000 vehicles. Their collection fleet is mostly comprised of Mack vehicles.