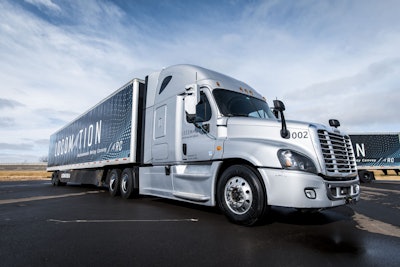 Trucking news and briefs for Thursday, Oct. 29, 2020:
Autonomous firm completes on-road truck pilot program
Autonomous trucking tech firm Locomation recently completed an on-road pilot program that showcased autonomous trucking technology for the SmartBelt Coalition, a collaboration of transportation agencies in Michigan, Ohio and Pennsylvania.
Over the course of one week, two Locomation trucks performed three separate interstate routes under close observation from the involved organizations. One route started at the Pittsburgh Community Food Bank and delivered food donations to families in need in Toledo, Ohio.
Locomation's Autonomous Relay Convoy (ARC) platform allows one driver to pilot a lead truck equipped with technology augmentation while a follower truck operates in tandem through Locomation's fully autonomous system.
TuSimple joins autonomous trucking initiative in Fort Worth
Self-driving truck technology company TuSimple has secured property in AllianceTexas' Mobility Innovation Zone in north Fort Worth, allowing the company to add new autonomous trucking operations within the "Texas Triangle" between Dallas, Houston, San Antonio and Austin.
TuSimple currently ships freight for customers using autonomous trucks, moving from Arizona to Texas, and this new facility will enable the self-driving technology company to add new shipping lanes in 2021.
Construction on the new project is expected to begin in November, with an expected completion by March 2021. The new facility will house autonomous truck operations, service and administrative support. The building will feature technology service bays, in addition to general office space.
The new facility will be the first urban logistics center in Texas for TuSimple. Its existing Texas location provides dedicated support to UPS.
Dana boosts battery-electric business with acquisition
Dana Incorporated announced it has acquired non-controlling stake in Pi Innovo, a software and electronics control unit developer for light, commercial and off-highway markets.
Dana has expanded into the vehicle electrification space with e-propulsion and e-accessories, including battery chargers, electro-hydraulic power steering systems and e-air compressors.
The investment in Pi Innovo will further enable Dana to enhance its in-house electric vehicle capabilities by providing software and control systems for its technologies.
"Software and controls are essential in the functionality of increasingly complex e-powertrain architectures, playing a critical role in maximizing efficiency and managing the systems used throughout the vehicle," said James Kamsickas, Dana chairman and CEO. "Pi Innovo's exceptional team of engineers leverage more than 25 years of experience to provide proven, safe, and flexible solutions to meet the growing demand for automotive embedded controls in the e-mobility market and beyond."