Rand McNally on Monday announced the end to a disruption for certain portions of its computer network. The disruption began on the morning of Nov. 22 and lasted through early morning Nov. 30, impacting the functionality of its ELD, mileage and routing technologies.
The company did not say what caused its network to go down. However, in a statement issued Monday, the company said it has no indication that customer data was affected by the outage.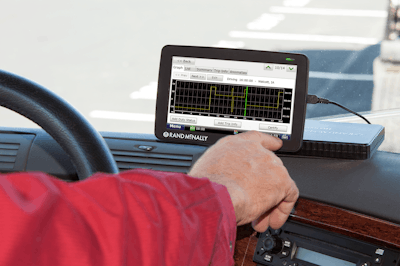 The network downtime came approximately a month after Rand McNally announced that TELEO Capital had acquired the 164-year-old company.
Rand McNally's DriverConnect fleet management platform has an electronic logging device (ELD) application that was not operational for the seven-day period. Drivers who used the ELD were unable to view, edit and certify logs, or provide them in the event of a roadside inspection.
The outage also impacted cloud-based versions of the company's mileage and routing software used by carriers, shippers and third-party logistics providers.
The ELD functionality of DriverConnect was restored on Monday, Nov. 30. The back-end web portal that fleets use for reports and other administrative features had not yet returned as of Monday afternoon but Rand McNally said that should be coming on-stream soon, along with its other web-based applications.
Rand McNally emphasized the navigation functionality of its GPS devices was never impacted by the outage nor were its other consumer electronics.
"We have taken significant steps forward toward restoration and continue to investigate for more insight into the incident and how to prevent future disruption," said Kendra Ensor, vice president of marketing for Rand McNally.
When ELD systems go down, the most immediate concern of fleets is being able to provide drivers with the last known status of their hours-of-service duty clocks to start a new record on paper or electronic logbooks. Additionally, the downtime that fleets experience may cause legal worries.
If a driver with a non-functioning ELD were to be involved in an accident, the information that a motor carrier would need in such an event, such as locations, duty status and vehicle information, would be missing from the moment the ELDs blacked out.
Drivers' paper logbooks may not line up with the electronic records when ELDs come back online, since the ELDs were not recording movements or changes in duty status while out of service. The Federal Motor Carrier Safety Administration does not allow the editing of driving time on line 3, as fleets and drivers can only add annotations to ELD records to explain discrepancies when those systems come back online.
Malfunctioning devices also mean that fleets do not have access to vehicle and engine telematics or driver performance and safety data.
According to information in the ELD FAQs section of the FMCSA website, in the event of an ELD malfunction, drivers must: 1) note the malfunction and provide a written notice to their carrier within 24 hours, then 2) reconstruct their logs for their current 24-hour period and previous seven days on a paper logbook or an e-logging app. Drivers must then 3) continue to maintain paper logs until their ELD is up and running.
Drivers and carriers have eight days after the malfunction to return to using a compliant ELD, after which they can be placed out-of-service. Requests for more time can be made in several different ways.