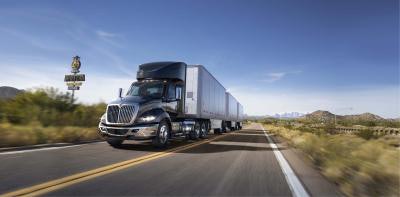 International Truck on Monday launched a new comprehensive suite of connected vehicle solutions as Intelligent Fleet Care.
Intelligent Fleet Care builds on International's all-makes OnCommand Connection remote diagnostics and the International 360 service communications and fleet management platform, adding multiple solutions driven by vehicle performance and telematics data including Fleet Health Monitoring, Advanced Preventive Maintenance, Advanced Fuel Analytics, Tire Pressure Monitor Reporting, Over the Air Programming and Gateway Integrations, which enable the use of Navistar's factory-installed telematics device to provide access to select third-party fleet management tools of the customer's choice, which can save up to $500 in upfront hardware costs.
Intelligent Fleet Care will be included as standard effective Dec. 15 for five years on new on-highway LT Series, RH Series and LoneStar trucks. The company estimates that fleets, depending on application, can save more than $12,000 per vehicle over those five years.
Navistar Vice President of Aftersales Operation & Connected Vehicles Chintan Sopariwala said the enhanced platform offers actionable insights into the health status of fleet vehicles and what needs to be done to keep it up.
"With Intelligent Fleet Care, we are delivering what our fleet customers have told us they are looking for," he said. "They want a faster, more efficient service and repair process. And along with this, they want predictive diagnostics and other solutions that enable them to optimize the fleet's performance. With Intelligent Fleet Care, they will now command all these benefits in one comprehensive package."
Aftermarket subscriptions for Advanced Preventive Maintenance and Fleet Health Monitoring are available for existing vehicles as well.