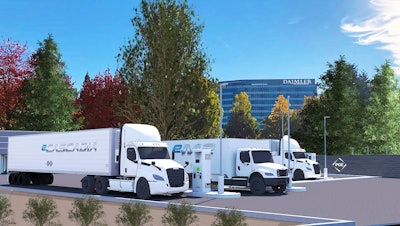 Trucking news and briefs for Tuesday, Dec. 1, 2020:
Daimler co-developing large electric truck charing site in Portland
Daimler Trucks North America is partnering with energy firm Portland General Electric to co-develop a large public charging site for medium- and heavy-duty electric trucks.
"Electric Island" is under construction now near DTNA headquarters in Portland and is designed to support up to nine vehicle charging stations with charging levels of up to greater than one megawatt by spring 2021. Plans for more chargers, on-site energy storage, solar power generation, and a product and technology showcase building are currently being finalized, the companies say.
Electric Island aims to address the intersection of vehicles and the grid, creating new opportunities for future EV drivers and utility customers. Powered by DTNA's enrollment in PGE's Green Future Impact renewable energy program, the site will be greenhouse gas emissions-free, including all vehicle charging.
KLLM announces sizable pay increase for drivers
KLLM Transport Services (CCJ Top 250, No. 42) announced one of the largest driver pay increases in company history Tuesday, which will increase monthly pay for over-the-road and regional independent contractors for the company by more than 9% and company driver pay by more than 8%.
The company says its independent contractors' fuel surcharge will now cover all compensated miles, loaded and empty, which will put average OTR contractors' compensated mile pay at more than $1.05 per mile. For regional independent contractors, the fuel surcharge increase puts average compensated mile at more than $1.38 per mile.
Additionally, OTR and regional company drivers will see a pay boost with a starting earning potential of at least 52 cents per mile with a new pay package.
"The resolve and determination of our KLLM company drivers and independent contractors throughout the last year has been remarkable," said Jim Richards, KLLM President and CEO. "They have kept America moving throughout the ongoing COVID-19 crisis by keeping food and pharmaceuticals stocked and on the shelves despite unprecedented challenges. We are proud of these men and women, and this pay package increase only further solidifies KLLM as one of top carriers in the nation for driver compensation."
Pride Transport raises driver pay
Salt Lake City-based Pride Transport (CCJ Top 250, No. 165) announced it is increasing driver pay by 4 cents per mile, effective Dec. 1. The company is also offering a $10,000 sign-on bonus, which will be paid out over two years – equivalent of an additional 4 cents per mile, the company says.
The company says its base pay rate is now 45 to 47.5 cents per mile, in addition to pay for layover, breakdown and stops, plus guaranteed detention. Drivers also receive paid holiday and vacation time. Pride also has a 401(k) program in which it matches contributions by 20%.