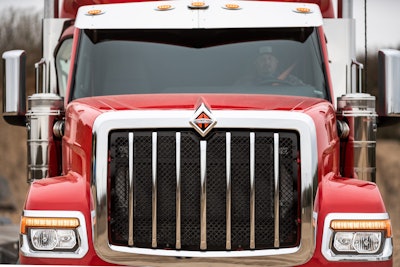 Navistar announced Wednesday that it has restructured its entire commercial business, responsible for selling and servicing International trucks, IC Bus vehicles and Navistar's aftersales products and services, forming one integrated organization under a single senior executive.
The new Sales, Marketing and Aftersales organization brings every function charged with responsibility for selling to and supporting customers together into one group. These areas include Truck and Bus Sales, Marketing and Dealer Operations; all business units dedicated to market segments; Aftersales, including Parts, Service and Warranty; OnCommand Connection; Used Truck; and a new function called Commercial Transformation, which focuses on building sustainable commercial success for the International brand.
Friedrich Baumann will lead the new organization. Joe Kory will serve as senior vice president of aftersales, and will lead parts and service, uptime and warranty. Mark Belisle, as vice president, of dealer sales and dealer operations, will take on additional responsibility for dealer sales as a Navistar executive solely focused on dealers.
Dan Kayser, vice president of national fleet sales, will oversee all national account and rental and leasing sales for Navistar.
Diane Hames, in her role as vice president of marketing, will oversee all marketing activities for International Truck, IC Bus and Navistar's aftersales brands, including product strategy and planning, channel marketing, strategic pricing and brand marketing communications.
Chad Conley, vice president of vocational sales, will manage sales activity and growth for Navistar's vocational segment through the International dealer network.
Bruce MacWhirter has joined Navistar as vice president of dealer operations and will coach dealership operations to ensure sustainability and performance across the channel.
Chintan Sopariwala, group vice president of parts, will work closely with dealers, suppliers and customers to grow the overall Parts business.
Justina Morosin assumes the new role of vice president of commercial transformation and will lead the company's plan to increase sales performance through the dealer network, which is one of the priorities of Navistar 4.0, the company's plan to boost profitability and marketshare.