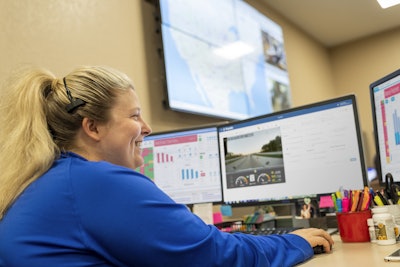 Strategies for driver retention aim to lower voluntary and involuntary turnover. Drivers can leave their carriers for any number of reasons, but those who depart involuntarily are shown the door because of safety and performance issues.
Hayden Cardiff, founder and co-chief executive of Idelic, estimates that, for many fleets, their involuntary turnover is 20 to 30% of the total. This leaves a lot of room for improvement, he said during a Dec. 8 webinar with fleet safety managers from TCW, Inc. and No Boundaries Trucking Group.
The trio discussed how proactive risk management and driver coaching strategies can reduce turnover.
Setting the stage
Idelic is a driver management platform that fleets can use to consolidate safety and performance data from third-party systems for analysis and to assign coaching and training events.
TCW's Ronnie Holland is director of safety for the Nashville, Tenn.-based intermodal carrier with 500 drivers. The company is in the early stages of deploying the Idelic platform to manage its safety data and driver coaching.
Billy May is national director of safety for Atlanta-based No Boundary Trucking Group, the largest regional contractor of FedEx (No. 2, CCJ Top 250) with 92 trucks and 176 drivers.
Both Holland and May stressed the need to develop personal relationships with drivers before any type of training or coaching is applied to change their behaviors.
Before drivers complete orientation training, for instance, May conducts an introductory phone call to "let them know that I am not someone who is here to beat you with a stick," he said. "My job is protecting you and having your back."
"We all make mistakes," he tells drivers. "As long as you are willing to learn and improve, that is all I'm looking for."
"When it comes to safety, that is the feeling they've got — Billy is here to help me be a better truck driver," he continued. "I always tell them, 'a coach is not in your ear to fuss at you and be mean. He believes you are better than you believe you are.'"
Proactive coaching
Once drivers are hired, No Boundaries Trucking Group's use of the Idelic platform makes it possible to "pick out people that I think are trouble," said May, by monitoring behaviors and predictive risk scores calculated from data sources that include demographics, ELD and video telematics.
With the Idelic platform, "it's as if I am sitting in the truck with a guy all day long," he said. "[Idelic] takes in so many things that my brain is incapable of calculating. It gives you a full picture of precisely what that guy is doing."
When coaching drivers, May uses video clips from critical safety events captured by the fleet's Lytx camera system to show drivers what they did wrong and how they can improve. The main goal of the coaching sessions is for drivers to show a willingness to improve.
"There is a fine line when a driver says he is not going to listen to you," he said. "That is where I say, 'you're going to have to do that somewhere else.'"
The majority of drivers at No Boundaries Trucking Group do not trigger events that need to be coached, he explained. Only a small percentage have behaviors that negatively impact the fleet's risk score, and "those are ones highly likely to end up in some sort of accident."
Holland said TCW uses key risk indicators to determine which drivers need coaching. The indicators are based on the number of events drivers have for unsafe following distances, speeding and hours-of-service violations, among others. At present, 42% of drivers in the fleet have zero events and 70% have less than two, he said.
When coaching, he emphasized the need to focus drivers' attention on specific corrective actions rather than general information.
"We are pretty specific for what the need is," said Holland.
Additionally, drivers are more likely to pay attention when the training is interactive and noted how TCW conducts ride along training with drivers as much as possible.
All three panelists also discussed what metrics can be used to gauge the effectiveness of driver managers for their coaching.
TCW has created a "master coach program" to train managers and senior drivers who are chosen for "operating by example, having the respect of managers and peers, and the passion to help others succeed," he said.
Holland said the key indicator used by TCW to evaluate the effectiveness of driver managers is the percent of drivers who achieve the fleet's quarterly safety bonus. Currently the fleet has more than 80% of drivers getting the bonus.
Love always wins
All three panelists said voluntary and involuntary turnover can be reduced when a system for coaching and training enables managers to be more proactive in engaging drivers to change their behaviors.
Change happens not by presenting drivers with information about what they did wrong, they said, but by making drivers feel loved and respected. When drivers feel watched out for, and not watched over, "within that process, we have a dramatic opportunity to improve turnover," Cardiff said.
Holland recommended fleets pattern their coaching sessions after a Bible excerpt, 1 Corinthians 13:4-8, by showing sincerity, patience, kindness, humility and respectfulness to "remind us that love always wins."
May stressed the importance of developing a safety culture based on love and not fear of reprimand. "I love my drivers," he said, and explained the meaning of love as sacrificing oneself for someone else's good. "That is the way we approach this. It is out of genuine care and concern for [drivers] and their families."
Having personal relationships with drivers makes it possible to find the root cause when their behavior changes, he noted.
"In my experience, usually something is going on at home," he said, and asks drivers "what's going on with your life at home? Is there anything me or the company can do to help you?"
No Boundaries Trucking Group recently sent a bouquet of roses and a $300 grocery gift card to a driver's wife when a manager discovered why the driver was upset. His wife lost her job and had been hospitalized with an illness. As a result of this gesture, the driver called May to say "I'm never leaving this company. I have never been treated like that before."
"My stuff always goes back to touching the heart and knowing your people," May said. "If a driver knows you've got his back he will follow you to the gates of hell, but it has to be genuine."
The webinar was hosted by the Truckload Carriers Association.