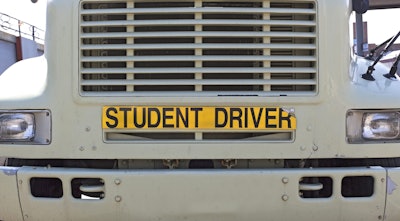 The process to obtain a commercial driver's license will soon be more streamlined, as the Federal Motor Carrier Safety Administration (FMCSA) announced Thursday it plans to allow states to permit third-party skills test examiners to administer the CDL skills test to applicants the examiner also has trained.
The final rule will be published in the Federal Register in the coming days and will take effect 60 days after publication.
Federal rules currently prohibit third-party CDL skills instructors who are also authorized by the state to administer the CDL skills test from performing both the instruction and the testing of the same CDL applicant. The new rule will eliminate that restriction and allow states, at their discretion, to allow third-party skills trainers to also conduct skills testing for the same individual.
FMCSA says the rule is designed to lessen testing delays and "eliminate needless inconvenience and expense to the CDL applicant" without compromising safety.
"Under Secretary Chao's leadership, the Trump Administration has continued to examine ways to provide common-sense regulatory reform and help individuals seeking to enter the commercial driver industry," said FMCSA Deputy Administrator Wiley Deck. "This new rule will provide states more flexibility during the ongoing public health emergency to test CDL applicants and allow more drivers to safely enter the industry."
The added flexibility comes at a welcome time for an industry that is down about 80,000 drivers compared to a year ago. The CDL Drug & Alcohol Clearinghouse removed 40,000 drivers (about 1% of the driving force) from January to September due to failed drug test results, and the industry has seen a 40% drop in CDL training due to closures (about 20% of truck schools are still closed) and the remainder are graduating fewer students due to social distancing.