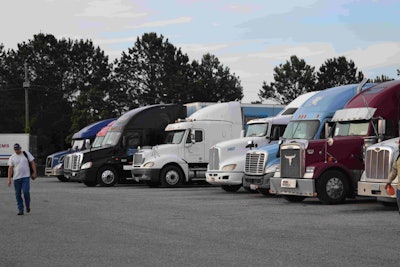 Trucking news and briefs for Tuesday, Dec. 22, 2020: 
Congress passes second COVID relief package
Both chambers of Congress Monday afternoon passed a $900 billion COVID-19 relief package that, in part, reopens the Paycheck Protection Program for small businesses.
For companies that received PPP funding in the first round, they can apply for a second loan of up to $2 million, as long as they have fewer than 300 employees, have used or will use the full amount of their first loan, and can show at least a 25% drop in revenue in any 2020 quarter compared to the same quarter in 2019, according to the Journal of Accountancy.
The loans will also still be available for first-time applicants with fewer than 500 employees.
The bill also includes a second round of direct payments to working Americans – $600 for every adult and child making less than $75,000 a year. It also adds $300 a week to unemployment benefits on top of state benefits from Dec. 26 through March 14, 2021.
Related specifically to highway transportation, the bill grants $10 billion for state highways.
"Since the early response to the pandemic, state DOTs have faced severe losses in state transportation revenues as vehicle travel declined," said said Jim Tymon, American Association of State Highway and Transportation Officials (AASHTO) executive director. "This COVID relief bill enables state DOTs to stay on track and support the efficient movement of critical goods and services as they maintain their transportation systems. Furthermore, this timely federal support will help state DOTs to retain their institutional capacities and to be prepared to deliver future infrastructure investment driving economic recovery and growth."
As of Tuesday morning, the bill is awaiting President Trump's signature to be signed into law to take effect.
Truckers now recommended for third COVID vaccine group
Following a meeting of a federal advisory board on Sunday, Dec. 20, truck drivers and other transportation and logistics personnel are now in the third group recommended to receive the COVID-19 vaccine, only behind other frontline essential workers.
The Centers for Disease Control and Prevention's Advisory Committee on Immunization Practices (ACIP) placed truckers in Phase 1c, based on the group attempting to find a balance between preventing deaths and preserving a functioning society.
In the first group, Phase 1a, are people in long-term care facilities and healthcare personnel. This group has already started receiving the vaccine from the first vaccine shipments that went out last week.
The second group, Phase 1b, consists of people 75 years old and older, and "frontline essential workers." Phase 1c, the third group that includes truck drivers, includes people 65-74 years old, those between 16 and 64 with high-risk medical conditions, and "other essential workers."
Workers considered "frontline essential workers" in Phase 1b include first responders, teachers, manufacturing workers, grocery store workers, public transit workers and more. In the "other essential workers" group are transportation and logistics workers, food service workers and more.