Trucking news and briefs for Monday, March 29, 2021:
2020 sees uptick in cargo theft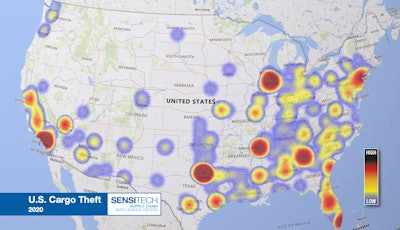 Cargo theft volumes and values in the U.S. increased in 2020 over the previous year and also hit a five-year high, according to cargo theft recording firm Sensitech's annual report.
The firm notes that its data is an indirect representation of the overall cargo theft footprint and not a direct reflection. It uses data from transportation security councils, insurance companies and law enforcement organizations, which may not represent 100% of all thefts but does provide a cross-section of thefts to identify trends, the firm notes.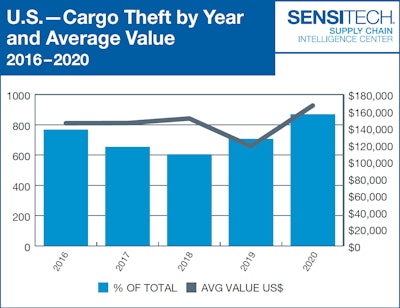 Sensitech recorded 870 cargo thefts throughout the U.S. in 2020 – 222 in the first quarter, 230 in the second quarter, 185 in the third quarter and 233 in the fourth quarter. The average value of 2020 thefts was $166,854.
These numbers represent a 23% increase in volume and a 41% increase in average value when compared to 2019. The numbers also represent the highest recorded volume and average value in the last five years, Sensitech adds.
2020 represents a second consecutive year with an upward trend in reported cargo theft volume, which prior to 2019 had been in decline since 2011.
Notable cargo theft trends in 2020 include pandemic-influenced product targeting and a record-breaking year for pilferage. Primarily, the rise in pilferage has fueled the increase in thefts, Sensitech says, as large-scale pilferage events accounted for 43% of total thefts. Pilferage is the theft of small portions of a load rather than stealing a full load.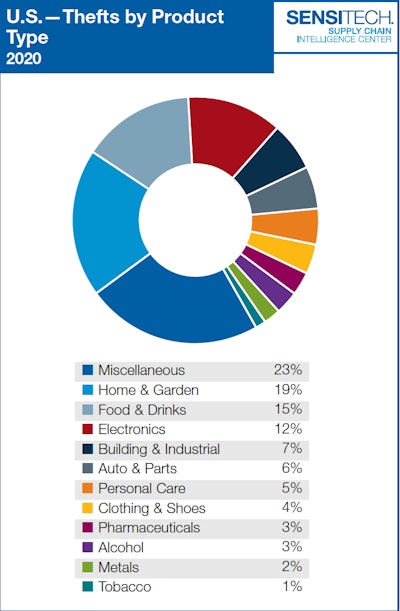 Additionally, product targeting in the pandemic was specific to merchandise that was already in shortage, ensuring quick liquidation and easy resale for the thieves. These products included toilet paper, disinfectants, personal protective equipment, ventilators and more. This is in line with Sensitech's data showing miscellaneous products being the most stolen for the year for the first time, accounting for 23% of all thefts.
Sensitech found that 48% of all recorded thefts in 2020 occurred in just three states – California (20%), Texas (18%), Florida (10%).
Cargo theft by month in 2020 was more volatile than typical years in which the fourth quarter normally ranks highest. Last year, April was the busiest month for cargo theft, logging 11% of the annual total. December, with 10% of the year's total, was the next busiest month.
Werner driver receives CVSA's IDEA honor
Werner Enterprises truck driver Allen Parker is the recipient of this year's International Driver Excellence Award (IDEA) from the Commercial Vehicle Safety Alliance. Parker has been with Werner for more than 34 years and has safely driven more than four million accident-free miles.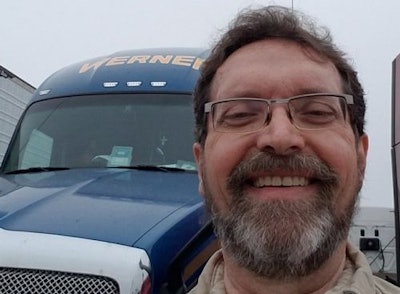 In addition to his stellar safe-driving history, Parker also does his part for the community. He sings the national anthem before the stock car races at the Jefferson County (Nebraska) Speedway and at the start of Minor League Baseball games. In addition, Parker participates in the World's Largest Truck Convoy for Special Olympics. The convoy is a one-day celebration of the trucking industry, its allied partners and law enforcement, all working together to raise funds for the Special Olympics.
CVSA recognizes the exceptional careers of professional truck drivers and their commitment to public safety through its driver excellence award. To apply for the award, nominees must have at least 25 cumulative years of crash-free driving in a commercial motor vehicle with a clean driving record for the past three years, no felony convictions, no safety-related driving suspensions in the past three years and no driver violations in the past three years, excluding form and manner violations.
"My reaction upon hearing the fantastic news that I'd received the International Driver Excellence Award was to be humbled," said Parker. "To be acknowledged by CVSA is truly an honor."
CVSA's IDEA isn't the only award Parker has received throughout his driving career. He has received multiple President's Safe Driving Awards from the Nebraska Trucking Association, Werner's Safe Driver Awards, and one, two, three and four million accident-free miles awards from his company.
When he has time away from driving, Parker travels with his wife, singing southern gospel music at churches and gospel music events. In fact, he and his wife have recorded four albums in Nashville.
Parker will receive his award at the 2021 CVSA Annual Conference and Exhibition in the fall. He will be presented with a crystal trophy and a check for $2,500. At this time, the annual conference is still scheduled to be held in-person in Wilmington, Delaware. PrePass Safety Alliance sponsored this year's IDEA.
Forward Air boosts owner-operator pay
Forward Air Corp. (CCJ Top 250, No. 33) announced its largest ever rate-per-mile increase to its independent contractor fleet within its LTL and truckload divisions.
Team owner-operators for the company are receiving an 11 cents-per-mile increase, while individual owner-operators will see a 5 cents-per-mile increase.
In addition to the rate per mile increase, the company announced a sign-on bonus program to help drive first-year profitability for transitioning owner-operators or fleet owners. The bonus consists of $10,000 per team truck and $4,000 per solo truck added to the Forward fleet – all paid out in the first year of service.