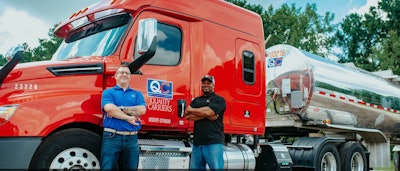 CSX Corp announced Wednesday it has signed a definitive agreement to acquire Quality Carriers from Quality Distribution (CCJ Top 250, No. 34). Terms of the transaction were not disclosed.
Quality Carriers, which operates the largest liquid bulk chemical trucking network in North America, will become a standalone entity within CSX and remain headquartered in Tampa, Florida.
Quality Carriers operates an extensive bulk tank trucking fleet with around 2,500 drivers and more than 100 company-owned and affiliate terminals and facilities throughout the U.S., Canada and Mexico.
The transaction will create a unique multimodal chemicals transportation system that will expand the reach of both CSX and Quality Carriers.
"The acquisition of Quality Carriers further demonstrates our commitment to the strategic growth of our business and deepening our relationships with customers," said CSX President and CEO James M. Foote. "Our new partnership will provide chemical producers and shippers with a first-of-its-kind multimodal solution that capitalizes on the powerful synergies between Quality Carriers' truck transportation fleet and our cost-advantaged rail network. We believe that this new capability will create meaningful long-term value for our company."
Quality Carriers' management team, led by President Randy Strutz, will continue to lead the business as part of CSX.
The transaction is expected to close in the third quarter of 2021, subject to regulatory review and certain customary closing conditions.
Gary Enzor, Chairman and Chief Executive Officer of Quality Distribution, called transitioning Quality Carriers to CSX "a tremendous positive for all of our key stakeholders, including our drivers, employees, customers and investors."
"It's incredibly exciting to see the creation of the CSX/Quality Carriers combination, which has the potential to be a game-changer for our industry," he said. "This transaction gives CSX and Quality Carriers the unique opportunity to offer a powerful combination of truck and rail solutions to customers, with the added benefit of maintaining QC's headquarters in Tampa."
As a result of the transaction, Quality subsidiary Boasso Global will become a standalone entity headquartered in Tampa. Boasso Global is an international provider of intermodal tank container and depot services with operations in seven different countries and the largest such provider in North America. The Quality Distribution name will be phased out after the closing of the transaction.