Trucking news and briefs for Thursday, Sept. 23, 2021:
Truck tonnage up in August after falling since March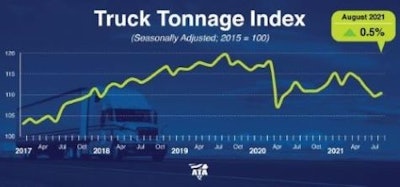 American Trucking Associations' seasonally adjusted For-Hire Truck Tonnage Index increased 0.5% in August after falling 1.1% in July. In August, the index equaled 110.3 (2015=100) compared with 109.8 in July.
"August's monthly gain, while small, was the first since March," said ATA Chief Economist Bob Costello. "It is important to remember that ATA's tonnage data is dominated by for-hire contract freight, with a very limited amount of spot market freight. I continue to believe that tonnage has not recovered to pre-pandemic levels for two main reasons – broader supply chain issues, like semiconductor shortages, as well as industry specific difficulties, including the driver shortage and lack of equipment."
Compared with August 2020, the SA index fell 0.5%, which was the second straight year-over-year drop. In July, the index was down 2.9% from a year earlier. Year-to-date, compared with the same eight months in 2020, tonnage is down 0.2%.
The not seasonally adjusted index, which represents the change in tonnage actually hauled by the fleets before any seasonal adjustment, equaled 114.5 in August, 2.2% above the July level (112). ATA's For-Hire Truck Tonnage Index is dominated by contract freight as opposed to spot market freight.
Embark forms advisory board to guide autonomous tech expansion
Autonomous truck tech developer Embark Trucks has formed a strategic advisory board, which consists of trucking and supply chain executives, that will guide Embark's rapid business expansion.
The board will advise Embark's overall business strategy and bolster the company's ranks with some of the best and brightest minds in the transportation industry, the company said.
Members of the Embark Advisory Board are:
Jonathan B. DeGaybor, President and CEO, Stoneridge Inc.
Rich J. Freeland, former COO, Cummins
David A. Jackson, President and CEO, Knight Transportation
Terry S. Kline, former CIO, Navistar
Michele S. Meyer, former President and SVP, Snacks Operating Unit, General Mills
Michael K. Pigors, former Region President, U.S. Domestic and U.S. International Operations, FedEx
Collectively, the advisory board members bring decades of executive experience and well over 150 years of collective total transportation experience to Embark. The six members come from diverse sectors of the broader transportation industry, including shipping, trucking, truck OEMs, Tier-1 suppliers and component manufacturers, and consumer packaged goods.
Volvo adds electric fleet charging start-up as partner
Volvo Trucks North America, through its Innovation Lab at Volvo Group located in Silicon Valley, is collaborating with start-up company AMPLY Power, an electric vehicle charging and energy management provider.
As a member of the Innovation Lab, AMPLY has shared its insight into some of the charging infrastructure challenges that could deter fleet operators from investing in a battery-electric fleet. In turn, Volvo has shared its valuable real-world experience gained from working with multiple customers that have installed charging infrastructure to support the deployment of Volvo VNR Electrics.
The Volvo VNR Electric, commercialized in December 2020, has been deployed to numerous fleets in the U.S. to support drayage, local and regional distribution, pickup and delivery, and food and beverage distribution. Volvo and AMPLY plan to team up to support a California fleet customer in designing and managing its electric vehicle charging infrastructure plan to maximize cost savings, charging efficiency and vehicle uptime.
AMPLY is also supporting the charge management program for Manhattan Beer Distributors, which is deploying its first five Volvo VNR Electric trucks in its New York beverage distribution fleet.