Trucking news and briefs for Wednesday, Sept. 29, 2021:
ACT: Volumes, rates fell in August but remained strong
The latest release of ACT Research's For-Hire Trucking Index, with August data, showed a drop in volumes and pricing, with a still-strong supply-demand balance.
Tim Denoyer, vice president and senior analyst at ACT Research, said demand remains strong despite declining volumes, which is due in part to capacity limitations from ports to trucks to trailers to drivers.
"With inventories rebuilding, strong U.S. consumer balance sheets, booming capital goods orders, and infrastructure stimulus in the pipeline, the fundamentals of the freight cycle remain positive," Denoyer said.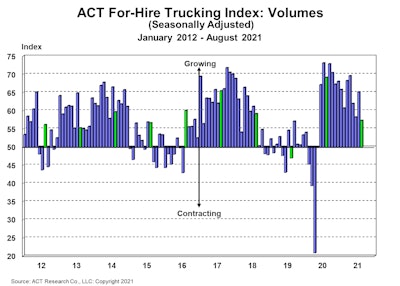 He added that the pricing environment is still tight, but ACT's Pricing Index slipped in August, "likely reflecting a degree of capacity rebalancing."
"Though new equipment production is still challenged and freight demand remains strong, early signs of driver hiring improvements are beginning to change the recent recipe for record rate increases," he said.
ACT also saw some rebalancing of the supply-demand balance, with some easing of the tight freight market of the past 14 months.
"Class 8 sales are constrained by parts shortages and tight inventories, so equipment capacity is lagging demand," Denoyer noted. "With some structural driver issues likely to outlast the pandemic and a generally positive freight outlook, we do not expect the market to loosen quickly, but the rebalancing has begun."
Kodiak announces next-gen autonomous truck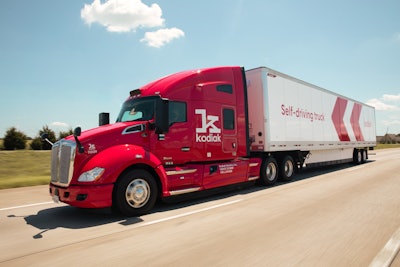 Self-driving trucking company Kodiak Robotics announced Tuesday its fourth-generation autonomous truck.
The trucks will feature Luminar's Iris LiDAR, ZF Full Range Radar, Hesai 360-degree scanning LiDARs for side- and rear-view detection, Cummins X15 Series engines, Bridgestone smart-sensing tire technology and the NVIDIA Drive platform. The trucks will debut on-road starting in the fourth quarter of 2021, as Kodiak begins to take delivery of 15 new tractors.
Kodiak's fourth-generation truck features a modular and discreet sensor suite in just three locations: a slim profile "center pod" on the front roofline of the truck, and pods integrated into both side mirrors. This well-integrated and low-profile sensor placement vastly simplifies sensor installation and maintenance, and increases safety.
Kodiak has placed an order for an additional 15 Paccar trucks that will be delivered over the next year. The trucks will more than double the company's fleet size and help Kodiak expand its growing business delivering freight for commercial customers in Texas and beyond. Over the next couple years, the company plans to expand throughout the southern half of the United States into other freight-rich corridors.
Maverick announces new sign-on bonuses
Maverick Transportation (CCJ Top 250, No. 75) is announcing its third sign-on bonus for 2021.
Effective Sunday, Oct. 3, all incoming student drivers holding a Class A CDL and 0-5 months of experience will receive a $2,000 sign-on bonus.
Additionally, Maverick is also offering a $5,000 sign-on bonus for experienced drivers with 6-plus months of experience and a $3,000 sign-on bonus for certain dedicated securement job openings.
Penske opens new Fort Worth facility
Penske Truck Leasing has constructed a new state-of-the-art facility in Fort Worth, Texas.
Located at 1300 John Burgess Drive, it is the third full-service company location in the Fort Worth area. Penske now has a total of 16 locations throughout the Dallas-Fort Worth metroplex.
The new location offers consumer and commercial truck rental, full-service truck leasing and contract truck fleet maintenance. It is also outfitted with the company's proprietary fully digital and voice-directed preventive maintenance process and connected fleet solutions.
The location is 23,470-square-feet and sits on 12.5 acres. It has five truck service bays, an automated wash bay and a full-service fuel island.