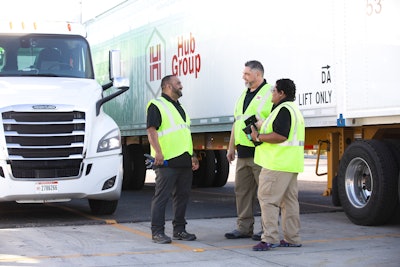 Hub Group (CCJ Top 250, No. 31) has acquired Choptank Transport, a provider of non-asset refrigerated transportation solutions with a network of more than 20,000 carriers throughout North America, for $130 million.
The acquisition enhances Hub's over-the-road refrigerated transportation solutions offering and complements its growing fleet of 450 refrigerated intermodal containers. Hub Group intends to further invest in its refrigerated transportation offering by purchasing 550 refrigerated intermodal containers in 2022, bringing the size of its fleet to 1,000.
"Refrigerated over-the-road transportation is a new capability for Hub," said Hub Group President and Chief Operating Officer Phil Yeager, "that offers substantial cross-selling opportunities (between Hub and Choptank) with our existing customer base."
The acquisition bolsters Hub Group's position in the refrigerated transportation space and adds a complementary offering to serve its customers' multimodal transportation and logistics needs. Hub Group President and Chief Operating Officer Phil Yeager, said the deal also "expands our reach, adds a new refrigerated capability and brings on a great management team and technology platform that will help us continue our growth.
Choptank adds scale to Hub's brokerage service line, with combined revenue of over $1 billion across dry van, refrigerated and LTL freight expected for 2021, and brings onboard the 3PL's proprietary technology platform that Hub will leverage to enhance its brokerage operation.