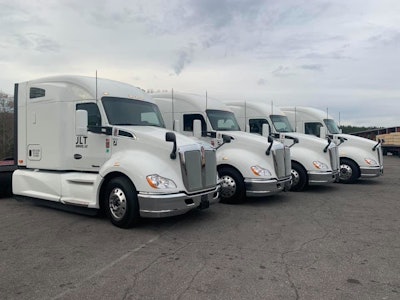 P&S Transportation, a subsidiary of Birmingham, Alabama-based PS Logistics (CCJ Top 250, No. 37), has acquired Nauvoo, Alabama-based JLT Services.
Founded by Brett Thompson and specializing in building materials, general freight, lumber, metal and paper products, JLT maintains a fleet of 32 trucks.
"We are proud to welcome JLT to the PS Logistics family," said Houston Vaughn, president of PS Logistics. "JLT brings great drivers, employees and freight expertise to our company as well as a new key customer to PS Logistics. I am pleased PS Logistics will continue JLT's family-oriented atmosphere and strong culture and we look forward to providing JLT's customers with the same service commitment."
Since 2014, PS Logistics has acquired and integrated 23 trucking and logistics operations, including six this year and two this month. Last week, DMT Trucking, a subsidiary of PS Logistics, acquired Broken Bow, Oklahoma flatbed operation Daryl Thomason Trucking.