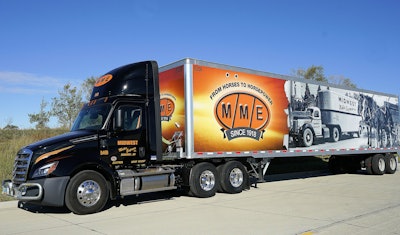 Midwest Motor Express, Inc.
Knight-Swift Transportation (CCJ Top 250, No. 4) on Monday announced the acquisition of RAC MME Holdings and its subsidiaries, which includes Midwest Motor Express (No. 197) and Midnite Express (collectively MME), for $150 million.
Founded more than 100 years ago, MME provides less-than-truckload, full truckload and specialized and international logistics transportation services in the upper midwestern and great northwestern regions of the U.S., and ACT Research Vice President and Senior Analyst Tim Denoyer said its regional footprint complements Phoenix, Arizona-based Knight-Swift's southeastern and midwestern LTL presence alongside its AAA Cooper Transportation (ACT) brand, which together cover more than half of the United States.
Knight-Swift acquired Dothan, Alabama-based less-than-truckload carrier AAA Cooper Transportation (then-No. 49) in July, and Knight-Swift noted that MME and ACT would have combined to be one of the 15 largest LTL companies in the country this year.
"MME is our next step toward a nationwide LTL network," said Knight-Swift CEO Dave Jackson. "While preserving and supporting MME's identity and culture, we expect to bring many synergies from Knight-Swift. MME and ACT have minimal regional overlap, and we expect they will be a benefit to one another."
Denoyer called Midwest Motor Express "an important piece of the puzzle for Knight in building a national LTL network," in that it brings online 15 additional states in the Pacific Northwest and upper Midwest and dovetails AAA Cooper in the Southeast and lower Midwest "with minimal overlap," he said. "With combined coverage of 27 states including MME, Knight looks to be ahead of its five-year plan of building and acquiring a national LTL network. Now they just need to fill out the Northeast and Southwest."
Getting into the LTL market has quickly reinvented Knight-Swift's balance sheet this year as e-commerce and retail freight shipments have soared, and LTL will account for 14% of the company's revenue this year (including full year pro forma results of MME and ACT).
"The transaction appears to confirm our expectation that major players in the trucking industry will continue to move toward diversification of service offerings, including truckload, LTL, final mile and logistics/brokerage," Avery Vise, FTR's vice president of trucking, said of Knight-Swift's most recent acquisition. "Shippers increasingly expect their transportation providers to offer complete solutions."
Based in Bismarck, N.D., MME operates a network of 30-plus service centers with a door count of approximately 800, working with customers in the U.S., Puerto Rico and Canada through affiliations with regional and national LTL companies. The MME fleet includes approximately 460 tractors and 930 trailers.
MME President and CEO Marlin Kling said he believes combining his company with Knight-Swift positions the carrier to "being part of building the next nationwide LTL network," a prospect he called "an exciting development for MME and its employees. We look forward to achieving synergies, sharing best practices, and creating value for all Knight-Swift stakeholders."
Knight-Swift has been on a spending-spree this year, having also acquired UTXL, a third-party logistics company, specializing in over-the-road full truckload and multi-stop loads throughout the United States, Canada, and Mexico, for approximately $22.5 million.