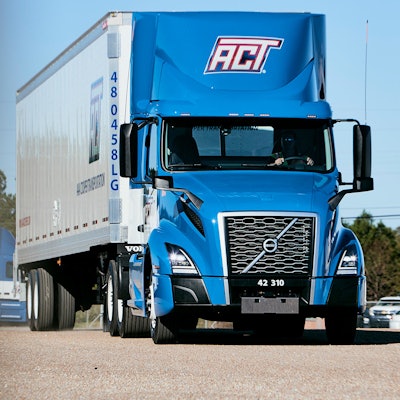 The trucking industry saw a handful of mergers and buyouts in the first six months of the year.
Among the more notable moves was when CCJ Top 250 No. 1 carrier UPS announced in January the sale of its UPS Freight business to TFI International (No. 8) for $800 million. In May, CSX Corp. acquired Quality Carriers from Quality Distribution (No. 34), and Hirschbach Motor Lines (No. 64) acquired Eagan, Minnesota-based Lessors, Inc., a nearly 300-truck reefer fleet last month.
CCJ Symposium: Time to Transform
Future-proofing your fleet operations for the road ahead
Join us in person at the the 2021 CCJ Symposium, August 9-11, in Birmingham, Ala. CCJ Symposium assembles fleet executives, thought leaders, industry analysts and leading suppliers to give you concrete action items for trucking's most pressing issues. We'll have multiple sessions to talk through how to:
Transform Your Operation
Transform Your Equipment
Transform Your Workforce
Don't miss what might be your first chance in a long time to collaborate and socialize in-person with your peers at the picturesque Renaissance Ross Bridge Golf Resort & Spa.
The second half of 2021 – all of one week old – has proven just as eventful with Werner Enterprises (No. 11) acquiring an 80% equity ownership stake in Pennsylvania-based regional hauler ECM Transport Group for $142.4 million, and Knight-Swift (No. 4) this week acquiring Dothan, Alabama-based less-than-truckload carrier AAA Cooper Transportation (No. 49).
"AAA Cooper's interchange partners have to be feeling pretty good." ACT Research Vice President and Senior Analyst Tim Denoyer
In its investor call announcing the acquisition Tuesday, Knight-Swift CEO Dave Jackson said many of his company's existing customers also ship LTL freight, so bringing in AAA Cooper will allow them to offer more services to existing customers. He added that, despite the differences in truckload and LTL, the companies "believe there are capacity and pricing trends and business intelligence tools between truckload and LTL that both Knight-Swift and AAA Cooper can learn from each other to make us more effective in the markets we serve."
The addition of AAA Cooper to Knight-Swift's portfolio will make LTL the company's second-largest segment, representing 14% of the Knight-Swift's revenue, behind only truckload revenue at 63%.
"We targeted LTL because the market is growing due to e-commerce and supply chain trends," Jackson said. "Driver retention is more favorable and even though volumes can be cyclical, the rate structure has less volatility. Additionally, the equipment has longer lives, which can improve the free cash flow profile compared to full truckload at similar operating margins. For these reasons, we believe LTL offers a strong line of business to leverage as a growth platform."
ACT Research Vice President and Senior Analyst Tim Denoyer called Knight-Swift's move into LTL "transformational," noting the deal "certainly has potential for more deals down the road as they build out a network."
The rationale that lured Knight-Swift into the segment, Denoyer added, was consistent with ACT's long-held views that the LTL cycle will be less volatile than truckload over the long-term, and LTL has growing strategic importance in the freight market because of e-commerce supply chain trends.
"AAA Cooper's interchange partners have to be feeling pretty good," he said.
Donald Broughton, managing director and principal of Broughton Capital, specifically noted e-commerce as a primary driver for the deal.
"Really, even just until a few years ago, if someone asked me what the customer base of an LTL carrier looked like, it looked far more industrial," Broughton said, "but e-commerce changed that. Now you look at the complexion of that business, and it's far different than five to 10 years ago."
Broughton added that the acquisition of AAA Cooper "will fit within Knight's concept of having regional terminals everywhere, which will dovetail nicely into an LTL network. It provides backhaul, linehaul capacity, velocity – all the things you need to run an LTL business."
FTR Vice President of Trucking Avery Vise said the transaction reflects "an ongoing evolution of the largest players in trucking becoming comprehensive solutions providers as opposed to leaders in discrete industry segments."
"We expect more transactions where large truckload carriers purchase major regional LTL carriers and, perhaps, where large LTL carriers purchase major regional and even national truckload carriers," he said. "Trucking remains far less concentrated than just about any other industry, so we could see numerous such transactions without any real change in the industry's overall competitiveness."