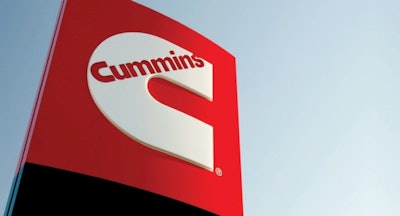 Trucking news and briefs for Thursday, Aug. 4, 2022:
Cummins completes deal for Meritor
Cummins on Wednesday announced that it has completed its acquisition of Meritor.
The $3.7 billion deal announced in February includes the integration of Meritor's people, products and capabilities in axle and brake technology into Cummins' components business.
Cummins expects to utilize its global footprint to accelerate the growth of the core axle and brake businesses by serving commercial truck, trailer, off-highway, defense, specialty and aftermarket customers around the world and the combination of the two companies will position Cummins as a leading provider of integrated powertrain solutions across internal combustion and electric power applications. Cummins intends to deliver market-leading decarbonized solutions to global customers by accelerating Meritor's investment in electrification and integrating development within its New Power business.
"We are excited to welcome Meritor's employees into Cummins," said Jennifer Rumsey, Cummins' president and chief executive officer. "Together, Cummins and Meritor will move further and faster in developing economically viable decarbonized powertrain solutions that are better for people and our planet."
Cummins' Executive Chairman Tom Linebarger noted that Cummins can help grow Meritor's core business given its sales and service network and customer relationships around the world, "and this acquisition has clear synergies for both companies that will position us for future investments during our industry's technology transition," he said. "We are relentless in our focus on Destination Zero, our company strategy to achieve net-zero emissions, and will lead in the transition to decarbonized power. This acquisition is an important step in executing on our strategy."
New Jersey moving company owner gets prison time for defrauding customers
Lior Atiyas (a.k.a. David Cohen), the owner of a moving company using several names, was sentenced July 14 in the U.S. District Court for the District of New Jersey to 22 months in prison, three years of supervised release, and a $200 special assessment. Atiyas was also ordered to forfeit $587,097, according to the Department of Transportation Office of Inspector General.
In November 2020, Atiyas pleaded guilty to conspiracy to commit wire fraud and conspiracy to commit health care fraud. According to court documents and statements made in court, Atiyas devised a scheme to enrich a moving company, using several names to conceal the company's true identity, including Premier Relocations LLC, Metro Van Lines, Inc., and others.
Between January 2016 and January 2019, Atiyas and an employee reportedly extorted customers by quoting them low estimates for moving household goods. Once the goods were loaded on trucks, Atiyas directed employees to raise moving prices to amounts that were often two or three times more than initial quotes. Customers were refused their goods until they paid the higher prices.
Atiyas also admitted to participating in a scheme to defraud Medicaid by generating false paystubs and employment documents to obtain Medicaid benefits for an uncharged conspirator.
Fastfrate completes acquisition of Challenger Group
Fastfrate Group announced Wednesday it has officially completed its majority acquisition of Challenger Group (CCJ Top 250, No. 77) following Competition Bureau Canada approval on Aug. 2. The terms of the deal were not disclosed.
Now with seven companies and 40 locations operating across Canada and the United States, Fastfrate Group is one of the largest independently owned transportation and supply chain companies in Canada, with a diverse suite of services that support the increasingly complex needs of customers. This includes LTL, truckload, intermodal, drayage, logistics, warehousing, distribution services, home delivery, e-commerce and more.
"Our acquisition of the Challenger Group brings together two iconic organizations in transportation and supply chain," said Ron Tepper, Chairman of Fastfrate Group. "Together, we are a force within our industry that will compete collectively to deliver a complete and complementary suite of solutions to customers. This will serve to help our customers as supply chains become more diverse."
As part of the acquisition, Challenger Group will continue to operate independently under incoming CEO Jim Peeples. Manny Calandrino will remain CEO of Fastfrate Group. Current employees and management teams at both organizations will not be impacted by the transaction.
FMCSA announces grants to bring veterans into trucking
The Federal Motor Carrier Safety Administration has awarded $3.1 million to community colleges and training institutes through the Commercial Motor Vehicle Operator Safety Training (CMVOST) Grant Program that will assist current and former members of the Armed Forces who want to pursue careers in trucking to get commercial driver's licenses and the training they need to enter the profession.
"Veterans know how to get things where they need to go safely," said U.S. Transportation Secretary Pete Buttigieg. "At a time when our supply chain depends on having more qualified truck drivers, this program will give those who have served in uniform a new and important way to contribute, and benefit, by launching a new career in this vital industry."
The CMVOST grant program has three goals: to expand the number of CDL holders possessing enhanced operator safety training; to provide opportunities for current or former members of the United States Armed Forces (including National Guard members and reservists) and their spouses to enter trucking; and help increase training opportunities for candidates from underserved communities.
In fiscal year 2022, FMCSA paved the way for a broader range of institutions to apply for CMVOST grants, as the agency did not require applicants to propose a local matching share of funding. FMCSA said this expansion will allow more qualified candidates from across the country to more easily be able to afford the training and licensing needed to join the trucking profession.
A list of CMVOST grants can be found here.