Trucking news and briefs for Thursday, Sept. 1, 2022:
CargoNet warns of increased cargo theft activity over Labor Day weekend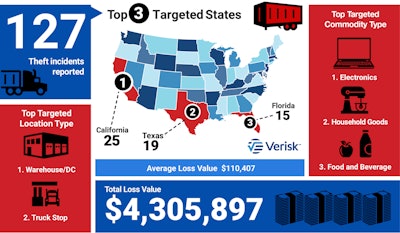 Cargo theft recording firm CargoNet is warning trucking companies that thieves across the country have been targeting expensive and hard-to-find semi-truck computer powertrain control (CPC) modules, which can make trucks undriveable, and a spike in criminal activity is expected over the Labor Day weekend.
CargoNet examined trends from the Thursday before Labor Day to the Wednesday after from 2017 to 2021 and the most activity in this analysis occurred on the Friday before Labor Day or Tuesday after Labor Day. In 20% of events, the property was last known to be secure on Friday and 27% of theft complaints were reported on the Tuesday after Labor Day.
"We can infer that most victims parked on Friday to enjoy the holiday and returned to discover theft of their property on Tuesday," the firm noted.
Thefts were most common at large retail parking lots, truck stops and warehouses. Targeted locations do vary by state though, CargoNet said, as truck stops were a significant risk location in Texas and Florida, but not in California.
Shipments of electronics goods like computers and televisions and household goods like furniture, appliances, and cleaning supplies were the most stolen goods.
Peterbilt delivers EVs to drayage fleet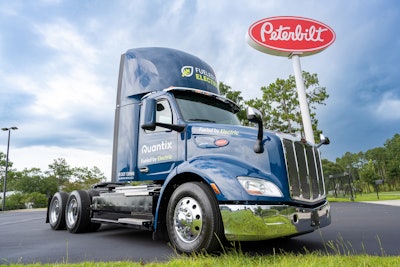 Peterbilt has delivered two Model 579 electric vehicles (EVs) to Quantix for drayage operation in its Charleston, South Carolina and Savannah, Georgia facilities.
Quantix, the leading supply chain services company to the chemical industry, has an extensive network of over 50 terminals and warehousing and packaging facilities nationwide. The Quantix fleet includes over 3,000 trucks and trailers.
"Quantix has very aggressive sustainability goals, and we intend to have 25% of our last mile and drayage fleet powered by alternative fuels by 2030," said Chris Ball, Quantix CEO and President.
Designed for optimal weight distribution and performance, the fully integrated, all-electric 579EV powertrain provides a range up to 150 miles. When used in conjunction with a recommended DC fast-charger, the high-energy density battery packs recharge in 3-4 hours.
Truck, trailer leasing company places order for Cummins hydrogen engine
Transport Enterprise Leasing, a commercial truck and trailer equipment lease and remarketing provider, has signed a letter of intent planning to purchase Cummins' 15-liter hydrogen internal combustion engines when available. TEL will integrate the Cummins' X15H hydrogen engines into its fleet of heavy-duty trucks.
Since announcing the fuel agnostic platform, which includes the Hydrogen option in both the 15 liter and 6.7 liter displacements, Cummins said it has responded to customer interest globally about the potential of the platform, and Hydrogen in particular. Hydrogen engines offer OEMs and end-users the benefit of adaptability by using familiar mechanical drivelines with vehicle and equipment integration. This mirrors current powertrains while continuing to provide the power and capability for meeting application needs. Significant reuse of parts and components from Cummins' existing platforms drives scale advantages on cost and is also projected to deliver reliability and durability equal to diesel.
Gatik, Pitney Bowes sign autonomous partnership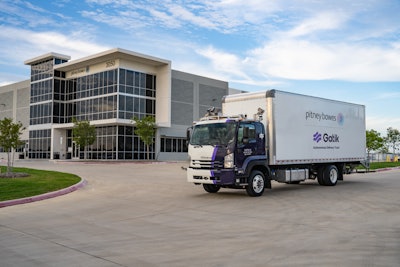 Autonomous middle mile logistics company Gatik has reached a multi-year commercial agreement with Pitney Bowes, a global shipping and mailing company that provides technology, logistics and financial services to more than 90% of the Fortune 500, to integrate its Class 6 autonomous box trucks into the Pitney Bowes ecommerce logistics network in the Dallas early next year.
Gatik's autonomous fleet, purpose built for the middle mile, will establish a continuous, operational loop and make multiple deliveries per day. During the initial phase, a safety operator will occupy the autonomous vehicles to monitor performance. Data collected from each delivery will be used to improve network design and identify additional opportunities for cost savings and service improvements as Pitney Bowes looks to integrate autonomous vehicles across its national ecommerce logistics network.